SXU Kicks Off Season with Christmas Music Spectacular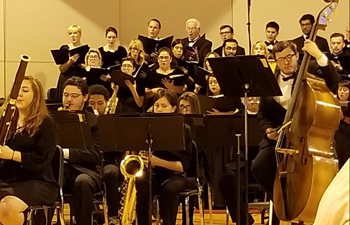 On Sunday, December 2, the SXU Music Department brought magic to the approaching holiday season with their fourth annual Christmas Music Spectacular. Featuring a variety of performances from across the department, attendees had the joy of experiencing the Chorale and Chamber Singers, Jazz Ensemble, Wind Ensemble and so much more. Attendees expressed time and again, both in person and on social media, just how impressive and fantastic they found the holiday performance.
"It was such an excitement to be a part of the standing-room only crowd and enjoy the amazing talents our students, faculty, staff and alumni possess," said SXU President Laurie M. Joyner.
The SXU Music Department invites all to attend the remaining performances in their fall concert series; the Saxophone and Clarinet Studio Recital at 7 p.m. on December 5; Jazz Night II at 7:30 p.m. on December 7; and the Piano Showcase at 7:30 p.m. on December 9.
For more information on the fall concert series or on SXU musical programs, please contact the SXU Music Department at 773-298-3421 or musicFREESXU.
---