SXU Hosts Second Criminal Justice Research Symposium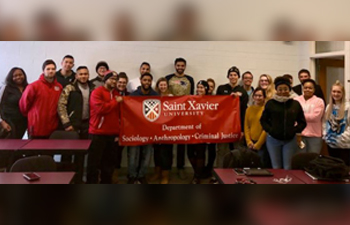 Saint Xavier University (SXU) will host its second Criminal Justice Research Symposium on Wednesday, December 5, from 1:30 to 3:30 p.m. The afternoon will be a triumph of the hard work and research performed by criminal justice students as they talk on a wide range of topics. The event is open to the public and all are invited to join friends, peers and colleagues to enjoy some food and the presentation of original individual and group research by SXU's criminal justice students.
Criminal justice students at SXU participate in a program designed to relate the criminal justice area to liberal arts education, forming a firm foundation for employment opportunities in such fields as corrections, institutional security, police work and probation. Throughout their studies, students gain a deeper understanding of the moral, philosophical, historical and scientific base from which decisions and judgments are drawn in criminal justice topics, ultimately culminating in their research performed in Senior Seminar.
The Criminal Justice Research Symposium will feature an array of individual research projects from Senior Seminar students as well as a group presentation entitled: 'Life Behind Bars: A Prison Correspondence Study'. Other topics to be presented include underage drinking and driving, analysis of firearm legislation language, capital punishment, community policing, correctional rehabilitation, the relationship between abuse and juvenile delinquency and many others.
The event will be hosted in the Butler Reception Room, located inside the Warde Academic Center.
Visit the SXU website to learn more about the University's programs in sociology, anthropology and criminal justice.
---