SXU Students Named Cuneo Scholars for 2018-2019 Academic Year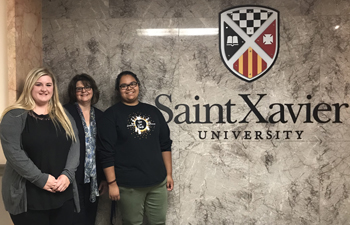 Universities across the country take immense pride in their students' many achievements. It is in this spirit that the Office of Corporate, Government and Foundation Relations at Saint Xavier University (SXU) is honored to announce that Ashley Galassini, '20, and Ximena Garcia, '22, were chosen as Cuneo Scholars for the 2018-2019 academic year. Both students will receive a $25,000 scholarship, a charitable grant financed by the Cuneo Foundation.
Established in 1945 by John F. Cuneo Sr., the Cuneo Foundation is committed to funding scholarships to students attending Chicago-area Catholic high schools and universities that exhibit academic excellence, a passion for service and a desire to create a more just society. The Cuneo Foundation has underwritten scholarships to deserving SXU students since 1992.
Ashley Galassini, a returning recipient, is a junior nursing student who has continued a standard of excellence over the years both in the classroom and in service. Throughout the summers, she has coached a special needs baseball team while studying pharmacology. She volunteers with Pals for Change, an SXU student organization that spends quality time with adults with specials needs, and is a member of the Student Nurses Association. As Galassini enters her junior year and begins her clinical rotations, she expresses just how incredibly grateful she is for the opportunities presented to her.
"I cannot express how much this scholarship has changed my life," said Galassini. "I have had time to focus on school, give back to my community and impact people's lives all thanks to not needing to worry about the cost of school."
Ximena Garcia is an incoming student who graduated from Eric Solorio Academic High School in May of 2018 before beginning her academic journey with Saint Xavier University. Garcia is a member of the SXU Jazz Ensemble and Bonner Leadership Club, and she dedicates part of every week at different locations around Chicago to help make a difference in the community. As the first semester of studying at SXU begins, Garcia is already working toward the goal of becoming a nurse practitioner at Ann & Robert H. Lurie Children's Hospital of Chicago.
"I cannot thank the Cuneo Foundation enough for their support," said Garcia. "This shows both my neighborhood and me that anyone can make it if they work hard."
To support students in their pursuit of impacting positive change, make a gift today to the SXU Annual Fund, which provides funding to student scholarships, strengthens academic programs and contributes to transformative initiatives. For more information about giving opportunities, contact Marie Kelly, executive director of Annual and Special Giving, at mkellyFREESXU or 773-298-3317.
---