SXU Communication Department Hosts COMM 101 Speech Competition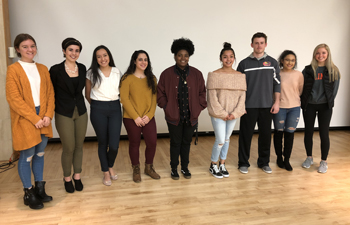 Every semester, the Saint Xavier University (SXU) Communication Department hosts the COMM 101 Speech Competition. The participants are students currently enrolled in the course who have been selected, voted or requested to participate by peers and faculty and give a speech for a chance to win prizes.
As with so many academic competitions, there are many purpose to the COMM 101 Speech Competition. First and foremost, it gives students the chance to shine in the spotlight while providing students with an authentic, real-world learning experience. Competitors recognize the overall role of the course as well as the roll the General Education Curriculum plays in their everyday lives.
"This experience is very relevant for our competitors but is also relevant to those who attend the competition to support their classmates," explained Cynthia Grobmeier, lecturer in the Communication Department and organizer of the speech competition. "They get to see several outstanding presentations that they can then strive to model their own public speeches after."
Among the many amazing presentations, some of the topics discussed included: canine companions, the psychology behind the motive of serial killers, the representation of people of color on television, competitive bowling, the dangers of social media and depression.
This year's winner was Marcy Herrera, a nursing major whose passions to become a missionary nurse inspired her to talk about Autism.
"She was very skilled at using movement and gestures to enhance her verbal delivery," said TJ Martin, a member of the judging panel for the speech competition. "She also had a very well written speech with strong ethos, logos and pathos."
SXU is delighted to see when students' passions drive them and are excited to see what new adventures they take in the spring term.
---