GSM Accounting Student Organization Hosts First Case Competition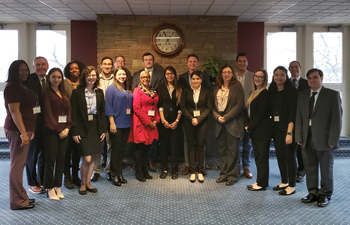 Saint Xavier University (SXU) is proud to have so many students, faculty and staff make a difference throughout every semester. Over the course of the 2018 fall term, many organizations and departments have worked diligently to provide many high-quality academic offerings and innovative leadership opportunities.
On November 17, the Graham School of Management's (GSM) Accounting Student Organization hosted its first case competition. Ten students participated, dividing into three teams where they performed an audit risk analysis of a public company, being Southwest Airlines in this instance. The students worked diligently for two months while attending a specially designed lecture series by GSM faculty to prepare them for the analysis required. The teams utilized skills developed throughout the curriculum -- including detailed accounting knowledge, financial analysis, competitive strategy, professional writing and communication skills -- before submitting a professional report to the panel of judges a week prior to the completion date. The judging teams consisted of eight professionals from several outstanding companies, including PriceWaterhouse Coopers, Feralloy, Aon Insurance, Jones Lang LaSalle, Old Republic Insurance and Lukas Law Firm.
The three teams then made 40-minute presentations of their findings and recommendations to the panel, during which time they also had to answer a range of critical questions both during and after their presentations. What then followed was a network luncheon where the students had the opportunity to practice networking skills and make proper introductions with the various judges.
The competition was organized by junior accounting major Nia Westbook and Alexander King, Ph.D., with special assistance from Gina McNally, Ph.D. SXU is honored by the diligent work performed by its students and is eager to see what the 2019 spring semester has in store.
---