SXU Commercial Shares the Stories of Its Students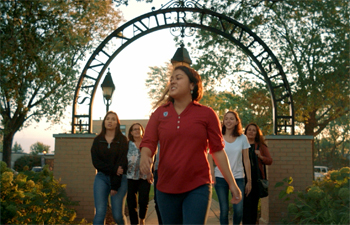 Saint Xavier University's (SXU) story is only as compelling as the students who populate its pages. Every single one of them is a star -- past, present and future -- and it was those same students who made the launch of SXU's new commercial and branding initiative all the more special. Over the last few months, a collection of the SXU community came together to take part in a series of commercial and photo shoots, sharing their stories and experiences with the world.
These stars will take viewers on a visual journey where the lives of so many different students from all places and backgrounds blend together into the story of SXU. Whether it is inside the classroom, in the dorms, on the field, at the library or anywhere in between, Saint Xavier University is dedicated to making a difference for its students.
Cora Graffeo, Dan McLaughlin, Ethan Gray and Sabrina Shafer are four examples of students who starred in the new commercial and shared their SXU adventures. Graffeo, a junior pursing her Bachelor of Science in Nursing degree, is very active in the SXU community. A graduate of Peotone High School, Graffeo works with SXU Production Services as a student blogger and is a forward on the women's basketball team. After graduation, Graffeo intends to continue her studies until passing the National Council Licensure Examination (NCLEX) and begin her dream of being a traveling nurse, putting to work everything she's learned from the SXU community.
"My favorite part of SXU is our faculty and staff, especially in the nursing program," said Graffeo. "Everyone is always so kind and helpful and willing to go that extra mile."
Going that extra mile happens both inside the classroom and out. Dan McLaughlin is one such student who has continuously given to both the University and the community abroad. A former corporal in the United States Marine Corp. and current criminal justice and exercise science major, McLaughlin serves as president of the SXU Student Veterans Alliance where he has helped organize a number of charitable operations while still finding time between classes to offer guidance as an assistant coach for the SXU baseball team.
Ethan Gray is also currently finding the time between studies to pursue his own dreams. While studying art, he also has a professional relationship with one of the most renowned brands in the world by drawing for Marvel. His story, like so many others, is the lifeblood of Saint Xavier University where SXU community helps find the best in you and shares those dreams in every way possible, including this commercial.
"Being a part of this commercial was an experience that I am proud and humbled by to have been a part of," said Sabrina Shafer. "The experience will definitely make an impact on my future career because I now have a better understanding of how much work is put into doing a commercial. Commercials are a very popular way to market products or place and, in my opinion, they are the most fun. That's why I want to be a part of commercial production some day in the future, along with being a social media marketer because I think that gets to reach the most people."
Shafer is a sophomore from Minooka, Ill., pursuing a degree in marketing. Her plans for the future are to move to downtown Chicago, join a marketing firm and travel the world, helping to craft others' stories.
The commercial will see its on-campus premiere on Monday, December 10 during the Finals Breakfast in the SXU Diner. From 10 to 11:30 p.m., students are invited to join the stars from the commercial for an evening of good food and fun times before kicking off a week of final exams. There will be T-shirts, tumblers, special prizes for students who come out in their pajamas and an interactive muralist who will be in attendance from Eyeroll Creative, capturing the spirit and stories of the SXU community.
For more information about the Finals Breakfast, contact Student Activities at 773-298-5114 or studentlifeFREESXU.
---