SXU Art Gallery presents Thomas Gianni's New Exhibit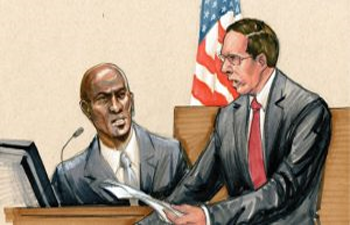 Saint Xavier University (SXU) is excited to announce the first spring semester Art Gallery exhibit, featuring the work of iconic Chicago courtroom sketch artist Thomas Gianni. This exhibition entitled, "Art That Works For A Living: Illustrations" will be on display throughout the month of January at SXU's Art Gallery on its Chicago campus, 3700 West 103rd Street. There will be a reception on Wednesday, January 17 at 3:30 p.m., followed by a presentation of Gianni's work.
Gianni was born and raised in the great metropolis of Chicago. His art education started with comic books and the artists that created them: Jack Kirby, Frank Frazetta, and Steve Ditko to name a few. He attended the American Academy of Art where he studied under Fred Berger, Irving Shapiro and Howard Mueller. There he discovered Michelangelo, Rembrandt, Howard Pyle, N.C. Wyeth and J.C. Leyendecker. He earned a post baccalaureate at the School of the Art Institute of Chicago in Visual Communication.
He has worked in advertising as a storyboard artist and product renderer, in animation as a background painter, in editorial and book illustration, in portraiture, in collectible card game art for Magic the Gathering and the Harry Potter game. He is currently illustrating a series of Robert E. Howard books for the REH Foundation. For his work on the Howard books, the REH Foundation awarded him the Rankin Award for Artistic Achievement.
Since 1981, he has worked as the courtroom sketch artist for the WGN, NBC and CNN television networks.
He has drawn Mafioso, corrupt politicians and serial killers. He recently covered three high-profile trials: the trial of Illinois governor, Rod Blagojevich, the Jennifer Hudson family murder trial and the trial of the notorious Drew Petersen. Since 1983, he has taught illustration, portraiture, structural anatomy, graphic design and advertising at the American Academy of Art, the School of the Art Institute of Chicago and Columbia College.
The following is a statement from the artist which reflects his artwork for this exhibit:
"I am a working artist. The work I do is known as illustration. The origin of the work 'illustration' comes from Latin meaning to illuminate, to shed light upon, to make something clear. Illustration is a way to illuminate through imagery. It is a visual storytelling. The prehistoric cave paintings of Lascaux and such like places are illustrations. To this day those primitive yet sublime images painted by some ancient hand continue to illuminate, to tell us stories of primordial existence. The stained glass windows in the great cathedrals of Europe tell stories from the Bible, not for the glory of God, but for the edification of humankind. Michelangelo did the same with the Sistine Chapel ceiling. Rembrandt was a story teller, as was Van Gogh and Norman Rockwell. That is quite a lineage. I consider myself to be in mighty good company, for I too, tell stories. My illustration is my art, my work, my life."
SXU's Art Gallery hours are 11 a.m. to 5 p.m. Monday, Wednesday and Friday; noon to 5 p.m. Tuesday and Thursday; and 11 a.m. to 2 p.m. on Saturday. For more information, please visit SXU's website.
---