SXU hosts 18th Annual Cougar 5K Walk/Run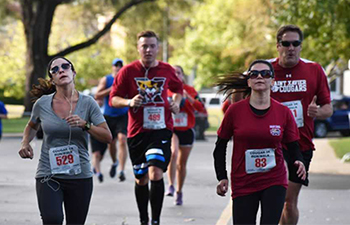 The cougar community will be on the prowl again through the streets of Evergreen Park during Saint Xavier University's (SXU) 18th Annual Cougar 5K Run/Walk on Saturday, September 22. The race is a South Side trademark, and it attracts new yearly participants as well as the returning running enthusiasts. It is a tradition grounded in spirit, a benefit to the whole community. The Cougar 5K Run/Walk will begin at 9 a.m. on SXU's Chicago campus, 3700 West 103rd Street. Runners, walkers and joggers will navigate the neighborhood and conclude on SXU's main campus.
The cost of pre-registration is $35 for runners/walkers. For faculty, staff and alumni, the amount is $30, and for students, the amount is $25. There is a family rate for up to three people from the same immediate family, each additional member is $20. Anyone who registers the day of the race will be charged an additional $5, and the family rate option will not be available. Registration can be completed online at the Cougar 5K Run/Walk Registration page.
Each participant will get a long sleeve performance moisture wicking t-shirt. Shirts are 100% polyester and feel like cotton. Stop into the Shannon Center after August 15 to try on sizes.
Axion is the sponsor of the prize money that is awarded to the top three runners in men's and women's categories. First place winners receive $150 each; those who come in second are given $100 each; and the third-place participants get $50 each. If contestants break a record, they will receive a $100 award from Axion. The current record for women is 18:34, and 15:21 for men. SXU will also award the top three male and female winners for each age group with gold, silver or bronze medals.
The Cougar 5K is also one of four courses that are part of the "I Run Evergreen Park" Challenge for 2018. People who participate in at least three will receive a medal, a certificate and a $10 Jimmy Johns gift card.
The 2018 Cougar 5K is sponsored in part by the presenting sponsor, Meijer; Axion, Country House and Northwest Credit Union, Athletico, Aquafina, Barraco's, Gilhooley's, GO Promotions, Impact Physical Therapy, Jackson Capital, Jimmy John's, Kohl's Cares, Matrix, Running for Kicks, Sports and Ortho, Core Fitness, Lunettes Eye Care, Shannon Center members, SXU's Office of Alumni Relations, Devine Nutrition, KIND Bars, Wojos, the Beverly Review and the Village of Evergreen Park.
For more information, please call the Cougar 5K hotline at 773-298-3592.
---