SXU's Graham Peck authors "Book of the Year"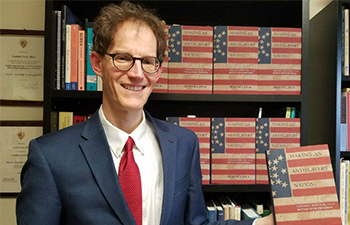 Saint Xavier University's (SXU) Graham Peck, history professor, was recently featured in the Beverly Patch for winning the 2018 Russell P. Strange Memorial Book of the Year Award from the Illinois State Historical Society. Peck's book is titled, "Making an Antislavery Nation: Lincoln, Douglas, and the Battle over Freedom." The book takes a deep dive into exactly what the title suggests: antebellum slavery in the United States and Illinois and the differences in approach between historical political rivals Abraham Lincoln and Stephen Douglas.
Peck, who has been part of the history department at SXU for 16 years, gave a chapter-by-chapter overview of the book in a radio spot with Pat Williams of WDBO 96.5 Orlando.
"It shows that slavery was critical to the origin of the Civil War, how slavery was forcing debates in the economic and political world and how that led to an antislavery party," Peck said. "Slavery was a problem in economic and social life that needed to be addressed because it was not going away."
To learn more, visit Graham Peck's website or read the full article on the Beverly Patch.
---