/
/
/
SXU's Graham Peck to conduct film screening and book signing at Evergreen Park Library on May 10
SXU's Graham Peck to conduct film screening and book signing at Evergreen Park Library on May 10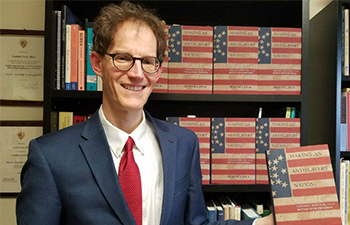 Saint Xavier University's (SXU) History Department Professor Graham Peck, Ph.D., will participate in a film screening and book signing event on Thursday, May 10 from 6:30 to 8:30 p.m. at the Evergreen Park Public Library, 9400 Troy Ave, Evergreen Park. This event is part of a series of events on the history of Illinois and Evergreen Park for the 2018 calendar year. This event is free and open to the public.
Professor Peck will show his film entitled, "Stephen A. Douglas and the Fate of American Democracy," to library patrons. This film tells the intertwined story of Stephen A. Douglas and the American nation from the country's founding to the outbreak of civil war.
Following the film screening, Professor Peck will host a book signing for his latest published book entitled, "Making an Antislavery Nation: Lincoln, Douglas, And the Battle over Freedom," which was published through the University of Illinois Press. This book reinterprets the origins and triumph of antislavery politics in the antebellum North, arguing that profound and persistent conflict between slavery and freedom convinced a majority of northerners by the 1850s that slavery imperiled the nation's commitment to the ideals and practice of freedom.
"I am really pleased to share my film with a public audience in my local community because history always connects us to the past," said Professor Peck. "Certainly it is essential to understanding contemporary American culture and politics. I especially look forward to our discussion after the film, because we will not only have a chance to discuss the connection of the past to the present, but also of Illinois to the nation. The film shows the centrality of Illinois to the origins of the Civil War."
For more information on this event, please visit the Evergreen Park Public Library's website. To learn more about Professor Peck's work, please visit his website.
---