SXU's Graham School of Management Donate 175 Meals for Thanksgiving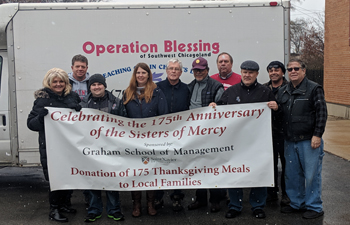 Thanksgiving is a special time when people across the country come together with family and friends to share a meal and celebrate the things for which they are thankful. But not everyone has the chance to sit down and carve a turkey. There are families who work and struggle every day to put food on their table and an annual feast is not a luxury everyone can take part in. The Sisters of Mercy, founders of Saint Xavier University (SXU), now celebrate 175 years of their Mercy mission and the SXU community is both proud and deeply honored to take up that mantle of responsibility.
On Saturday, November 17, SXU's Graham School of Management (GSM) organized a project to give back to the community by arranging the donation of 175 turkeys and 175 non-perishables for the Thanksgiving holiday. Gifted to Operation Blessing and the Catholic Charities of the Archdiocese of Chicago, this food will go on to make a difference to families in the community. Members of the GSM faculty and staff spent the morning organizing and loading the meals for distribution, filling a trailer for Operation Blessing.
"Not only did we celebrate the 175 years of the Sisters of Mercy in great fashion but we were also able to help local families during the holiday season," said Nicholas Mancari, director of the GSM undergraduate program.
It is truly heartwarming to see the dedication of so many, not only at SXU but around the world, who take time to give back to their communities. Saint Xavier University and the Graham School of Management wish all a very happy holiday and are eager to continue sharing the Sisters of Mercy's mission into the quickly approaching new year.
---