SXU partners with Grow Your Own Teachers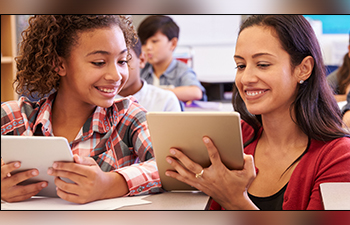 Saint Xavier University (SXU) is proud to announce its partnership with Grow Your Own Teachers (GYO), a teacher-training program that aids diverse students in becoming certified teachers. Through this program, SXU-enrolled students gain access to a new support base and financial assistance.
As SXU was named a top university in Illinois for preparing underserved students to succeed, GYO has chosen to support SXU students who want to become teachers. GYO helps students in low-income areas feel a greater sense of inclusivity and community in the classroom and has identified initiatives to improve learning conditions and even increase test scores in these students through their work with a diverse teacher-base.
Like SXU, GYO values diversity and inclusion for all people and aims to shrink the diversity gap between teachers and students in Illinois schools. The partnership between SXU and GYO is the perfect stepping stone to building a more inclusive future for Illinois students.
GYO is available to all SXU education related majors who have demonstrated a strong commitment to their community and have attained an ACT score of at least 18, SAT score of 935 or passed one section on TAP. Interested students should apply online by Saturday, September 15, 2018 on the Grow Your Own Illinois website.
Students enrolled in this program gain valuable access to services such as intensive test preparation and tutoring and are even awarded tuition assistance for working with GYO. Education Professor Kathleen McInerney, Ph.D., has worked extensively with GYO since its inception, serves as the SXU GYO liaison and is prepared to help students gain the most they can from this program. Once students complete the program, they are required to teach for five years at a high-needs school, furthering their commitment to helping underserved communities.
For more information about SXU's Education programs, visit www.sxu.edu, keyword: Education.
To support GYO or to apply to become a GYO participant, visit www.GrowYourOwnTeachers.org. Please direct any questions about the program to Kenneth Snyder via email at ksnyder@gyo-il.org.
---