Alumni Relations hosts upcoming events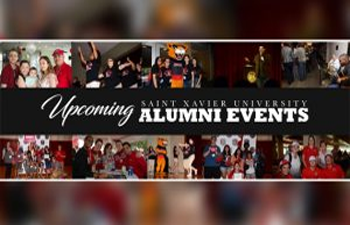 Saint Xavier University's (SXU) alumni and friends are welcome to attend the various upcoming events throughout the spring 2018 semester. Meet and mingle with new friends and old as you participate in activities that will be enjoyed by all!
Game Night at Gil's -- January 31
Game Night at Gil's provides the opportunity to meet other SXU alumni and members of the SXU community. Gilhooley's will offer great food and drink specials on every Game Night, including their homemade, melt-in-your-mouth skillet cookie. Join us the last Wednesday of every month for trivia hosted by Alumni Relations. Entry is $5 per person and teams will be limited to five players/team. The winning team will get their entry fee back and receive a gift card/gift certificate from a local establishment.
Halfway to Homecoming -- February 9
It may not be Fat Tuesday, but let's get Mardi Gras started! SXU alumni don your feather masks, beads, hats, and costumes, and gather your friends and family to join us on this "Fat Friday" for food, drinks, music and merriment!
The event will take place on Friday, February 9 from 6:30 to 9:30 p.m. at 115 Bourbon Street, 3359 W. 115th Street. Online early bird registration is $35 and includes food and drinks all evening. After early bird admission, the cost is $40. You must be 21 or older to attend.
This year we are also very excited to announce that a portion of the proceeds from this event will go to benefit Swift Outdoor Accessible Recreation (S.O.A.R.). S.O.A.R. is an organization dedicated to raising funds through events to help improve and regain the life and some functionality for people living with paralysis. Their ultimate goal is to foster collaboration and engage researchers, entrepreneurs and philanthropists to assist in empowering others to live a fuller life.
Golden Gals Gathering -- February 21
We welcome all the Golden Gals, SXU alumna who graduated from 1967 and back, to join us for a monthly social club that will afford them the opportunity to become reacquainted with classmates who share in the Mercy tradition.
SXU Brews and News -- February 21
SXU Alumni Relations is excited to introduce SXU Brews and News, a novel approach to networking. Increase your business connections and career potential by joining us each month at various locations around Chicago and the suburbs. This month's event will take place at Horse Thief Hollow, 10426 S. Western Ave. from 6 to 8:30 p.m.
For additional information, please contact SXU's Alumni Relations Office at 773-298-3316 or alumniFREESXU.
---