SXU Gallery Presents Katarzyna Derda's "Someone Like Me"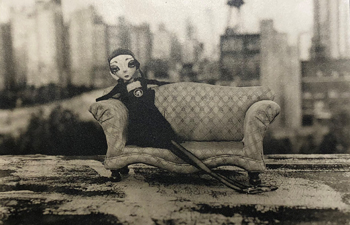 The SXU Gallery is honored to be hosting the photo lith prints of Katarzyna Derda from October 1 to 23, 2018. Derda's work is a photographic creation of her past, as well as a temporary escape from that past, in which she utilizes a handmade doll and thoroughly explores the creamy yet gritty look of the photo lith process.
Lith printing is a technique involving overexposing a black and white, infrared or color negative onto a suitable gelatin silver paper. This can produce prints with special characteristics in terms of tonal distribution and response to toners, making lith printing moderately unpredictable. With the current digital age, there are fewer and fewer papers available that will properly adhere to the chemistry of the process, making artistic renderings rarer to come across.
Katarzyna Derda was born and raised in a small town in Poland, deciding to move to the United States in her early 20s. It was during this move that she discovered her passion for photography. Since 2012, her works have been exhibited in an array of exhibits across the United States and Europe. She has received first place in the Moscow International Foto Award and an honorable mention in the International Photography Award. Just recently, Derda's work has been accepted for The Chicago Project at Catherine Edelman Gallery in Chicago.
See the eerie scenarios portrayed in Derda's work displayed at the SXU Gallery. In an exhibit entitled "Someone Like Me," see the mysterious doll as it draws your attention with an uncertain, trance-like gaze.
Visit the SXU website for more information on the SXU Gallery and its exhibits. For more details on Katarzyna Derda and to see more of her work, visit www.KatarzynaDerda.com.
---