SXU welcomes Kevin Coval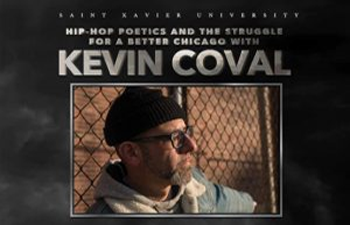 Saint Xavier University (SXU) will host "Hip-Hop Poetics and the Struggle for a Better Chicago" event with Kevin Coval on Monday, February 26 at 4:15 p.m. in Warde Academic Center's Fourth Floor Boardroom, which located on the University's Chicago campus, 3700 West 103rd Street, Chicago.
Attendees are welcome to meet poet and community-builder Kevin Coval, also known as Chicago's poet laureate and mentor to Chance the Rapper. He is the author of 10 books, including "A People's History of Chicago," editor of "The BreakBeat Poets: New American Poetry in the Age of Hip-Hop" as well as the artistic director of Young Chicago Authors and founder of the Chicago youth poetry festival, Louder Than a Bomb.
For more information, please contact Student Activities at 773-298-5114 or studentlifeFREESXU. This event is sponsored by Race and Justice Education and Action, the Philosophy and Religious Studies Department and the Education Department.
---