MLB Pitcher Comes Home to Saint Xavier University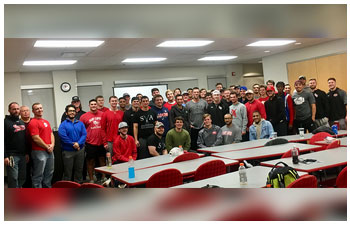 Saint Xavier University (SXU) Alumnus Luke Gregerson '06 came home this Thanksgiving and spent a day with the SXU baseball team, sharing stories over a few slices of pizza.
Gregerson took the pitcher's mound and the outfield for SXU between 2003 and 2006, during which time the Cougars claimed three conference titles, won the 2006 NAIA Region VII and NAIA Super Regional and advanced to the NAIA World Series for the first time since 1988. After graduating, he began his professional career in Major League Baseball (MLB) where he has played for the San Diego Padres, Oakland Athletics, Houston Astros and St. Louis Cardinals. He also held the MLB record for most holds in a single season until Joel Peralta of the Tampa Bay Rays broke the record in 2013. In 2018, Gregerson made 17 appearances for St. Louis as a relief pitcher.
While visiting with the SXU baseball team, Gregerson gave the players the chance to ask questions and discuss his experiences in the world of professional athletics. He shared stories from the MLB, offered pointers for the game and advice on playing after graduation and looked back at some of his favorite moments while a student.
"One of my fondest memories of SXU would have to be my senior year when we went to the World Series," said Gregerson. "It was some of the most exciting baseball I remember being a part of. We had a group that gave everything to get to where we were, battling through slumps, failures and injuries. I think that people in sports know how hard it is to find a group of guys with such passion."
Saint Xavier University could not be more thankful for the many dedicated alumni who come home to SXU and give back to the students. The sharing of their experiences and helping to build new connections could not be more impactful in helping shape the students' futures.
"We could not be more appreciative for Luke taking time to come back and talk to the team," said Rocco Mossuto, head baseball coach. "He answered questions for about an hour and it was a great experience for our current players."
Gregerson was inducted into the SXU Athletics Hall of Fame in 2014. Visit the SXU Athletics website for team rosters, game schedules, stats and more information on the SXU Athletics Department.
---