SXU alumnus ordained to the priesthood, returning to Campus Ministry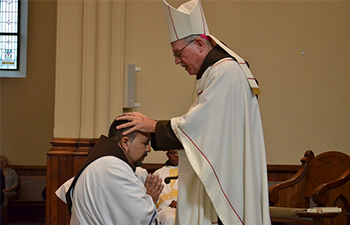 The alumni of Saint Xavier University (SXU) can be found working all over the world. While some travel very far, others stay close by and find employment in the various departments that make up SXU's Chicago campus. Starting in September, SXU will welcome another alumnus back to campus, this time in the form of a priest!
Stationed at St. Clare of Montefalco parish in Gage Park, Fr. Vito Martinez, '14, will be celebrating Thursday Masses at SXU's McDonough Chapel. While he did not originally plan for a life in the priesthood, Martinez found refuge and contentment through his connections with the Capuchin Franciscans during a time of self-discovery.
"Prior to becoming a priest, I was a car salesman and a poker dealer in Grand Rapids, Michigan," said Fr. Martinez. "When I was 30, I became disillusioned with the material lifestyle. I wanted to be fulfilled in my life, and that meant finding joy and happiness at a deeper level. Those roots of the faith began a long journey of discovery that led me to the Capuchin Franciscans and to the priesthood."
Through his connections to organizations throughout the Archdiocese of Chicago, Martinez has worked on initiatives for peace, justice, reform and service to others that are sure to be an asset to Campus Ministry. He has worked, specifically, with the indigenous communities in Chiapas, Mexico, and has observed the extreme hardships the people encounter on a daily basis.
"There is a small town called Acteal, which is the site of a massacre that remains unanswered for. Every month the community remembers the massacre with a Mass, followed by a procession into the tomb," said Fr. Martinez. "The community finishes with a dance and with food. It is an experience I have preached about to demonstrate how hope and love conquers evil."
While he gives God all of the glory, Martinez also credits his family, friends and encounters with SXU professors and peers in shaping him into the person he is today. He looks forward to giving back to the community through his Thursday Masses and hopes that his journey and experiences will inspire those in attendance.
"I'm forever grateful to my professors and to my classmates, especially in the Computer Science Department where a religious vocation seems out of place," said Fr. Martinez. "My education has allowed me to do a lot of consultation within my Religious Order and in the Archdiocese of Chicago. While only God knows where your personal journey will lead you, I strongly believe that the University, the church and the world benefit when students take the time to discern God's role in their own lives."
For more information on Campus Ministry or to view the Mass schedule, please visit their calendar or email campusministryFREESXU.
---