Students gain new perspective by living in the wild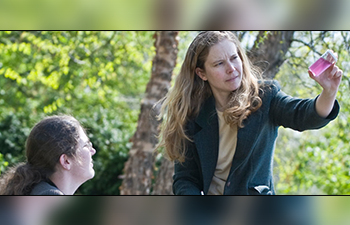 Ah, the great outdoors! The birds are singing; insects are crawling and Saint Xavier University (SXU) students are immersed in an environment that is drastically different than the city life they are accustomed to. For over 10 years, SXU students have had the opportunity to travel to the Reis Biology Field Station in Steelville, Missouri to take part in living outdoors and learning more about the vast natural environment around them.
Open to all SXU students, the most recent trip was made from June 10 to 15, and the next one will take place in early June 2019. Students who attend can expect to embark on many outdoor activities during the trip. They are also sure to encounter tons of wildlife, most of which cannot be seen while walking the busy streets of Chicago.
Randolph Krohmer, Ph.D., is responsible for leading students through the Field Station and has even developed a corresponding course that offers students a chance to earn one to two credit hours for taking part in the experience.
"We go canoeing, hiking, observing animals, including bird watching, animal tracking, seining for fish, and cave exploration. We see snakes, turtles, lizards, salamanders," said Krohmer. "This past trip we saw a bald eagle and a river otter; basically, anything that can be observed."
Due to the trip's location, there are never two experiences that are exactly alike. There continue to be new observations made and different encounters had each time students visit the Field Station. This opportunity is perfect for any student who enjoys nature and wishes to grow in their understanding of life in a natural setting.
"For city kids, this is a unique experience," said Krohmer. "Being able to live out in the environment, seeing animals they might not ever see if they stay in the city their entire life; seeing the stars without light pollution and generally communing with nature. All of the students that have participated want to go back, and a few that could manage their schedules have."
If you have any questions or would like more information about this trip, please visit the Biology Field Experiences or contact Krohmer at krohmerFREESXU.
---