SXU's School of Nursing opens clinic at Saint John Fisher School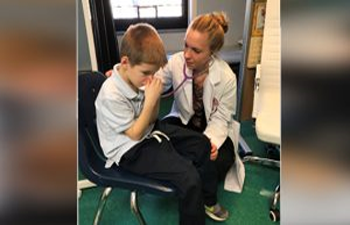 Each new calendar year brings new adventures and for Saint Xavier University's (SXU) School of Nursing (SON), that adventure lies just a few blocks down the road at Saint John Fisher School (SJF). This spring semester SON and SJF have teamed up to create an operating clinic, where Family Nurse Practitioner (FNP) students and faculty can serve their fellow community members. The clinic at SJF will be open from 8 a.m. to 2 p.m. Tuesday through Thursday each week and is located in the music and arts building.
"We have longed for a school nurse for years but have been unable to create the position because of budget constraints," said Sister Jean McGrath, principal of Saint John Fisher School. "Very few Catholic schools in the Archdiocese have a school nurse, so we consider ourselves very blessed by this new initiative. I am also happy that this program allows our school and parish families to know about the wonderful work that Saint Xavier is doing for the local community."
The FNP students participating in this operating clinic are register nurses and completing pediatric clinical hours required for their Master's of Family Nurse Practitioner degree program. For this placement students are enrolled in a course on primary care of women and children. Each student completes 75 hours of women's health placement and 75 hours of pediatric placement. Completing clinical hours at the SJF clinic satisfies their 75 hour pediatric placement. The students are supervised on-site by SXU's Dr. Laura Tucco and Dr. Christine Beck; both are experienced, board certified family nurse practitioners.
The clinic provides care for illness, injuries and physicals needed at certain grade levels or for sports participation. The FNP students conduct primary care evaluations of children, which includes: assessing sick children; diagnosing the problem; developing a plan of care; contacting the guardians or their surrogates and determining a disposition for each student; and providing care until the child is sent home or returned to class. Adult staff members who fall ill are also welcomed to use the clinic's services. There is no charge for physicals, illness or injury care provided at SJF's health clinic.
The idea for the clinic stemmed from Saint Xavier's Assistant Professor of Undergraduate Clinical Placement Coordinator Patricia Kelly, MSN, RN, CNE.
"Patty Kelly has a daughter enrolled at Saint John Fisher and she had a conversation with the school principal, Sister Jean McGrath, on the need for a school nurse; which, led to a meeting in early 2017," said Dr. Laura Tucco, assistant professor and director of FNP Program. "Everyone was enthusiastic about establishing a relationship with an organization where SXU's SON could complete community service. Serving our community is consistent with our Mercy mission here at SXU."
Funding for the clinic is supported by a grant awarded to SXU by the Health Resources and Services Administration (HRSA) of the U.S. Department of Health and Human Services (HHS) under T94HP30915 and "Advanced Nursing Education Workforce". This information or content and conclusions are those of the author and should not be construed as the official position or policy of, nor should any endorsements be inferred by HRSA, HHS or the U.S. Government.
Though only in its early stages of implementation, the clinic has been well received by parents, children and school staff!
---