SXU Alumni Relations hosts 2018 Homecoming Week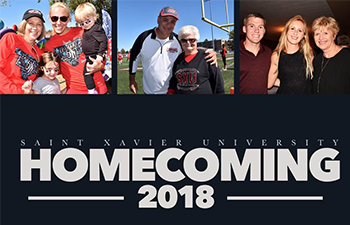 The Saint Xavier University (SXU) community is preparing for yet another exciting, spirit-filled week of activities and events for its 2018 Homecoming Week, which will take place from Wednesday, September 19 to Saturday, September 22. SXU is delighted to invite students, alumni, faculty, staff and friends to enjoy the festivities on the Chicago campus, 3700 West 103rd Street.
The Homecoming Liturgy will be the start to Homecoming Week and will take place on Wednesday, September 19 at noon in SXU's McDonough Chapel. Here, the Saint Xavier University Community is welcome to join in prayer, faithful to our Catholic Heritage.
Brews and News is scheduled for Wednesday, September 19 from 6 to 8 p.m. at Open Outcry Brewing Company, located at 10934 S. Western Ave., Chicago, Ill. Gather your friends for this novel approach to networking with alumni, staff and faculty and enjoy appetizers and news from SXU. Reservations are preferred.
Student Media Alumnipalooza will be from 6 to 9 p.m. on Thursday, September 20 at Miller's Ale House, 6401 W. 95th Street, Chicago Ridge, Ill. All are welcome to join us for the first SXU Student Media Alumnipalooza hosted by the Student Media Department and SXU Alumni Relations! Reconnect with classmates, meet former and current faculty members and learn about the new initiatives in our SXU Student Media Department. Admission is free. Enjoy delicious appetizers, soda (cash bar) and, of course, great conversation!
The Class of 1968 Reunion is a 50th reunion celebration that will be held on Friday, September 21. It will begin at noon with a mass in McDonough Chapel, followed by a gathering in SXU's Butler Reception Room at 1 p.m. After the 2:30 p.m. campus tour, the group can relax until 5:30 p.m., when the cocktail reception begins at the Ridge Country Club, followed by a class photo at 6 p.m. and dinner at 6:30 p.m. Please RSVP to Jeanmarie Gainer at 773-298-3316 or at alumniFREESXU.
18th Annual Cougar 5K Run/Walk begins at 9 a.m. on Saturday, September 22 on SXU's Chicago campus. Hundreds of students, staff, faculty, alumni and community members will take to the pavement for this signature South Side tradition.
Immediately after the run, the Cougar's Corner Tailgate Tent and Family Fun Zone commences at 11 a.m. on the Bruce R. Deaton Memorial Field. There will be plenty for everyone at this event, including: inflatables, arts and crafts, face painting, games and more! Admission is $5 at the door and includes food and soft drinks. Tickets for alcoholic beverages will be available for purchase (21+). Children 12 and under accompanied by an adult are free.
Homecoming Football Game: SXU vs. University of Saint Francis (Ind.) is set to kick off on Saturday, September 22 at 1 p.m. on the Bruce R. Deaton Memorial Field. Come join as students, staff, faculty and community members cheer on SXU's Cougars as they take on Taylor University.
For more information about upcoming alumni events, please contact the Office of Alumni Relations at 773-298-3316 or email alumniFREESXU.
---