Shannon Center Member Spotlight of the Month -- March 2018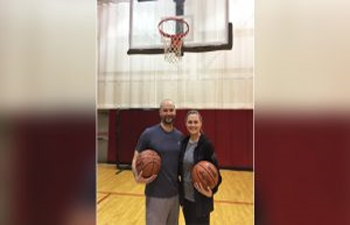 Saint Xavier University's (SXU) Shannon Center has been open to the community for over 17 years! As a way to show appreciation of the community's support, the Shannon Center will highlight one loyal member each month.
The Member Spotlight for the month of March is Lisa Barsch. The proximity to home, wide array of equipment and exercise classes offered make the Shannon Center the perfect place for Barsch and her entire family to focus on living a healthy lifestyle. As an SXU alumna, she enjoys going to the Shannon Center not only for its gym, but also to attend women's basketball games and activities such as the Santa Walk.
"My daughters play basketball, so we come out to support the Lady Cougars; and, I take that opportunity to point out teaching moments to my girls," said Barsch. "Living a healthy lifestyle is not only important for myself and my husband, but we do it for our kids too! I want my girls to know that exercise is important, fun and has many benefits," said Barsch.
Barsch has truly made coming to the Shannon Center a family affair. She makes time to work out with her husband, Steve (who is with the Chicago Police Department) and even purchased a membership for her father, Dennis who has since become a loyal member of the Shannon Center and attends daily.
A typical workout for her starts with cardio to warm up and then moves to either free weights or a machine. As a teacher and basketball coach for District 101, Barsch also enjoys playing basketball at the Shannon Center.
Making time for yourself and realizing the impact of your exercise is how she recommends getting started and continuing to work out.
"It's so easy to push it off because everyone has busy schedules, but in the long run once you get going it feels so good!" said Barsch. "You will be a happier person and your whole family will be happier too."
Congratulations, Lisa! Check back and see the Shannon Center Spotlight for the month of April!
---