Sisters of Mercy offer $25K scholarship award for SXU students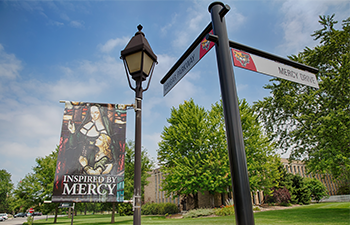 When the Sisters of Mercy founded Saint Xavier University (SXU) in 1846, the goal for the institution was to carry out their benevolent mission. In keeping with tradition, it seems only fitting the Sisters of Mercy would offer a grant to fund scholarships for qualifying students to advance their education. For the 2018-19 academic year, the Sisters of Mercy West Midwest Community has generously gifted SXU a $25,000 grant to support the Mercy Scholarship Program.
Selected students will receive a $4,500 scholarship, and are expected to gain a greater understanding of the social concern of human trafficking in the first semester, and hosting a panel discussion in the second semester that will be open to the public. The topic of human trafficking is interwoven with the Critical Concerns of the Sisters of Mercy, which include: immigration, nonviolence and women.
"Through the kindness and generosity of the Sisters of Mercy, awarded SXU students will be able to address the Critical Concerns of our times in their project works as they prepare for their careers," says Mercy Scholarship Program Director Charlene Bermele, DNP, RN, CNE. "Gaining further experience with our Mercy heritage enables our students not only to gain a deeper appreciation for the sisters, it allows them to make a tremendous impact toward bettering the future."
To qualify for the grant, students must meet the following criteria: be enrolled in an undergraduate program at the sophomore, junior or senior level at SXU; demonstrate considerable financial need; be in good disciplinary standing with the University; and have a minimum 3.0 GPA. Additionally, preference will be given to young women in their senior year.
The highly respected Mother Catherine McAuley established the Sisters of Mercy in 1831; an order focused primarily on service, hospitality and compassion, three of SXU's core values. This scholarship combines these principles to influence and encourage students to achieve their ambitions and to keep the Mercy spirit alive.
The efforts and interests of the Sisters of Mercy have propelled the continuation of Catherine McAuley's Mercy spirit and passion for giving, which has helped students to flourish.
Interested scholarship candidates must complete the application, which is located on the Scholarship Directory by Friday, September 14. Decisions regarding the recipients will be announced in October.
---