SVA Breaks Ground at SXU for New Veterans Memorial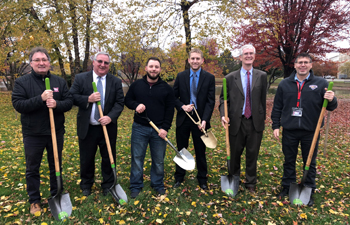 The Students Veterans Alliance (SVA) at Saint Xavier University (SXU) broke ground on the crisp morning of November 1 for the soon-to-be erected Veterans Memorial. Standing alongside members of SXU administration, the SVA began the final phase of what has been a long journey. Over the last few years, the students involved have launched an extensive fundraising initiative, which capped in last month's fundraising event at 115 Bourbon Street.
"The idea for the memorial just started as a passing comment around a table, and now we're here," said Dan McLaughlin, president of the SXU Student Veterans Alliance and former corporal in the United States Marine Corp. "It's been a lot of work, but it will have been worth it to help give something back to the community and our fellow veterans."
Saint Xavier University is continuously grateful for the many ongoing contributions of its student veterans, from their sacrifices to their scholastic success. The SVA has made a great many positive impacts on the institution and the community through their programs and passionate discussions. The focus of the SVA's most recent campaign was to provide the community with a new way to honor those brave men and women who made the ultimate sacrifice for their country. Alongside Tony Campbell, vice president of student affairs; James MacLaren, provost; Peter Skach, director of Facilities Services; and William Zic, assistant professorial lecturer from the School of Nursing and Health Sciences, the ceremonial ground breaking took place along the shores of Lake Marion.
"It's always been important to us to try and give back to all veterans, both at SXU and our community neighbors," said Richard Bretzer, vice president of the SXU Student Veterans Alliance and former sergeant in the United States Marine Corp. "That's why we've worked so hard, and it's great to see that start to pay off."
The memorial site will be dedicated during the statue's final installation at a later date upon at 11:11 a.m. This ceremony is a time to acknowledge and honor those who have served the United States in both periods of war and peace and all community members and leaders are invited to take part.
On November 9, all are invited to join the SVA in the SXU Diner from 8 to 10:30 a.m. for the SVA's Veterans Breakfast, open to the public to enjoy great food while honoring the sacrifices made by the men and women in uniform.
For more information about the Student Veterans Alliance or the Veterans Breakfast, contact Dan McLaughlin at mclaughlin.d01FREEmymail.SXU.
---