SXU Celebrates Hispanic Heritage Month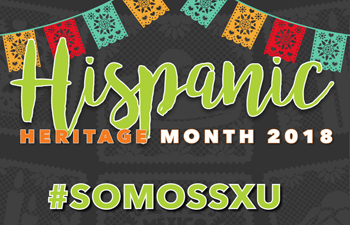 From September 15 to October 15 every year, Americans honor Hispanic Heritage Month by celebrating the culture, history and contributions of Hispanic and Latino Americans. The observation of Hispanic Heritage Month began in 1968 under President Lyndon Johnson as Hispanic Heritage Week and was later expanded to a full month by President Ronald Reagan in 1988. It is a time where the country looks to the many profound and positive ways Hispanic culture has helped shape the national character.
Costa Rica, El Salvador, Guatemala, Honduras and Nicaragua all celebrate their Independence Days on September 15, which is why Hispanic Heritage Month took up the day as its official annual commencement. And like so many in the country, Saint Xavier University (SXU) will be celebrating the month with its own series of special events. SXU is proud to recognize the importance behind celebrating diversity among its students, faculty and staff, not only through its works but also by establishing it as a key part of the University's core values. The promotion of diversity strengthens the reach and collaboration of SXU's academic programs and makes for a more engaging educational environment. This mingling of different cultures and perspectives help prepare all our students for taking engaged roles in a global economic and international community.
Among the events taking place at SXU, there will be open discussions about Hispanic identity with SXU faculty and students, cultural food experiences at the SXU Diner each Thursday, a bilingual Mass on September 23 celebrated by guest celebrant Father Ray Flores, and a career panel featuring Latin SXU alumni.
For more information, contact Student Activities at 773-298-5114 or studentlifeFREESXU. To view the full calendar of events for Hispanic Heritage Month, visit the calendar.
---