Saint Xavier University announces spring 2018 concert schedule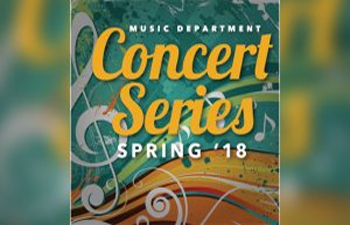 Saint Xavier University's (SXU) Music Department will once again be hosting a concert series for the semester. The performances are open to all, and are free for SXU students, faculty and staff with a valid ID. Admission for the public is $6, and $5 for members of the military, senior citizens, and visiting students. For more information, please contact the Department of Music 773-298-3421.
Faculty Brass Quintet
3 p.m., Sunday, March 25, McDonough Chapel
The concert will begin with the SXU Faculty Brass Quintet exploring the music of Johann Sebastian Bach, Giovanni Gabrieli, Victor Ewald, Eugene Bozza and others. The second half of the concert will welcome special guests, the Eastern Iowa Brass Band. This lively group of professional musicians, teachers and community members will perform a varied set of repertoire featuring Hermann Pallhuber's epic test piece, The Spirit of Puccini. It is sure to be a powerful and exciting performance and one you won't want to miss! Please note that there is a time and venue change from earlier advertisements.
Songs for Spring
7:30 p.m., Friday, April 6, McGuire Hall
The flute choir will be performing and is directed by Irene Claude.
Ever After
3 p.m., Sunday, April 8, Music Performance Space
The Opera Workshop and Chorale will come together for a performance featuring scenes such as Le Nozze di Figaro by Mozart, Die Fledermaus by Strauss, Fame by Levy and Fernandez, Into the Woods by Sondheim, The Sound of Music by Rogers and Hammerstein, Little Women by Knee, Dickstein, and Howland and The Secret Garden by Norman and Simon.
Chamber Music Ensemble and Chamber Singers
7:30 p.m., Sunday, April 15, McGuire Hall
A number of SXU's Ensembles will perform, including the SXU Saxophone Quartet, SXU Horn Ensemble, SXU Chamber Ensemble, SXU Guitar Ensemble and SXU Chamber Singers. This will be a lovely afternoon as these groups bring music to life!
Wind Ensemble Symphony Orchestra Concert
7:30 p.m., Saturday, April 21, Music Performance Space
This year's final concert for the Wind Ensemble and Symphony Orchestra will feature a variety of composers who used unique sources as inspiration for their music, such as the timeless music of Leonard Bernstein. The Wind Ensemble will feature guest soloist, Professor Dan Sartori in a piece entitled, The Patriot. Also featured on the concert will be a piece by Leroy Anderson that utilizes the oddest of solo instruments, a typewriter. The orchestra will also perform the Finale (Choral) movement from Mendelssohn's groundbreaking Symphony No. 5 "Reformation." We hope that you can join these two ensembles in their final concert of the academic year.
Jazz Night II
7:30 p.m., Friday, April 27, McGuire Hall
The second Jazz Night of the semester will celebrate the music of women composers in jazz. The concert will begin with SXU's Jazz Combos opening the performance. Join SXU's Jazz Ensemble for an evening of music highlighting some of jazz's most talented and pioneering women including Mary Lou Williams, Maria Schneider and Patty Darling.
Flute Studio Showcase Recital
7:30 p.m., Saturday, April 28, McDonough Chapel
Piano Showcase
7:30 p.m., Sunday, April 29, McGuire Hall
Pianists from the SXU Music Department will present a spring recital of well-known solo piano works. Performers include senior Therese Bueno, juniors Olivia Dimangondayo, Alexis Zuniga and Bruce Young, sophomores Mary Sullivan and Sr. Hoa Nguyen and freshman Portia Nash. Admission is free.
---