SXU's Maddie Welter Becomes 18th Player to Score 1000 Career Points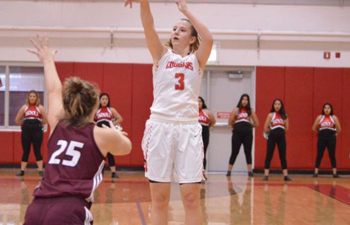 Saint Xavier University's (SXU) women's basketball team saw the achievement of a career milestone when junior guard Maddie Welter of Arlington Heights, Illinois became the 18th player in the program's history to score 1000 career points.
The Cougars took a 77-67 victory on November 24 over Wilberforce University (Ohio) as part of the Siena Heights Thanksgiving Tournament. Four players scored double-figures as Saint Xavier used a big first quarter to earn the win. Welter led the way for the Cougars, scoring 18 points; Chanel Fanter of Crystal Lake, Illinois was a rebound away from a double-double, posting 15 points and nine boards; Janie McCloughan of Geneva, Illinois set a new career high with 15 points; and Gabby Kreykes of St. John, Indiana finished with 13 points.
Saint Xavier scored 29 points in the opening period, the most scored in a single quarter in any game this season. Back-to-back three-pointers from Welter gave the Cougars a 24-11 lead will just over two minutes left. By the end of the end of the first half, the Cougars were commanding a 41-29 lead.
SXU is deeply proud of Welter's accomplishment and of all the young women representing the University both on and off the court.
Visit the SXU Athletics website for box scores, season stats, team rosters and more information on the SXU Athletics Department.
---