SXU Honored with Innovation in Campus Engagement Award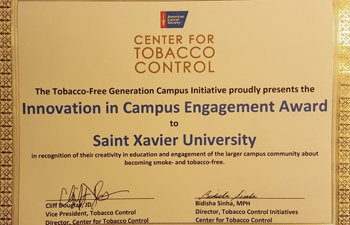 Saint Xavier University (SXU) is honored to have been awarded the Innovation in Campus Engagement Award by the Center for Tobacco Control. Joining the growing ranks of over 1,800 universities in the United States, SXU has made immense strides to become an official tobacco-free campus. This policy that went into effect on January 1, 2017, was established to provide a safe and healthy environment for living, working and learning. By making SXU tobacco free, the University has greatly minimized the negative effects of secondhand smoke, improved fire safety and encouraged a more sustainable environment for students, faculty, staff and community members.
"We're honored to be a part of the nationwide effort to help create the first tobacco-free generation while also increasing awareness of the harmful effects of tobacco and secondhand smoke," said SXU President Laurie M. Joyner, Ph.D., at the launch of this initiative. "Protecting the health and wellness of our faculty, staff, students and visitors as well as creating a healthier and cleaner campus environment is a very high priority for us."
Presented at the Tobacco Free Generation Campus Initiative meeting to Kathleen Rohan, director of the Center of Nursing Innovation, this award shows the growth that the SXU community has made toward a healthier future. The negative health effects of tobacco use have been well documented over the last 50 years, and these negative effects pose public health concerns in school environments as well. Tobacco-related illness is not just limited to the person smoking a cigarette or chewing the tobacco, and the evidence of danger from secondhand and thirdhand smoke has been evident for decades.
SXU is grateful to have been recognized with this award and is excited to be part of the steadily increasing amount of colleges and universities in the United States that are establishing tobacco-free campuses.
Visit the SXU website to learn more about SXU's tobacco-free campus.
---