SXU hosted its inaugural Research Expo on March 14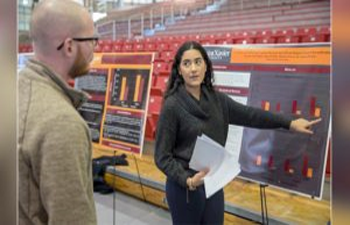 Last week, Saint Xavier University (SXU) hosted its first-ever Research Expo, where students, faculty and staff had the opportunity to showcase their research through various projects. This event was created and sponsored by the Office of the President.
Among the many projects that were displayed, SXU caught up with a couple students and faculty members to learn more about their research. A brief synopsis for those individuals, include:
James Miller, junior studio art major, who presented on his love for studio art and the idea of creating screen prints or laser-engraved images by using the laser bed to cut out sculpture shapes and put them together. He has been a graphic designer for 15 years and enjoys having the opportunity to blend the different art mediums to create something more visually compelling.
Gina Rossetti, associate professor for the Language and Literature Department, showcased two projects at the Expo, both focusing on different aspects of author Jack London's work. In the first project, she did a comparative analysis between some of Jack London's stories and Ernest Hemingway's; while focusing on how they both address the idea of white privilege. Dr. Rossetti criticizes this analysis as a central concern. In the second project, she focused more directly on London's fears -- the idea of white identity and white society being destroyed in the futuristic novel "The Scarlet Plague," where she again, criticized white privilege.
Marcell Key, junior studio art major, featured his research project on his digital artwork. He works diligently as an artist using his phone through the use of Procreate Pocket, an iPhone version of the popular iPad art app, as an essential piece using his drawing application. Key mentioned how the affordability to have the necessary digital tools right in his pocket or at an arms-length away really help to allow him to create concepts on the go, anytime he wants.
Anna Gasienica Byrcyn, adjunct professor for the Language and Literature Department, highlighted her work on various Polish language and literature projects. She is a translator and teaches the Polish language and was recently published an article on the poetry of Marta Fox entitled, "O poezji Marty Fox pędzlem Miró pisanej" (On the Poetry of Marta Fox Written by Miró's Brush), which is slated for publishing in the November 2018 issue of the magazine Śląsk. Additionally, she co-translated with Dr. Stephanie Kraft, Eliza Orzeszkowa's novel entitled Marta. The book will be available in July, 2018 published by the Ohio University Press/Swallow Press in Polish and Polish-American Series.
To view photos from the event, please visit the Saint Xavier University Facebook page.
---