SXU hosts Mission Day Celebration Today!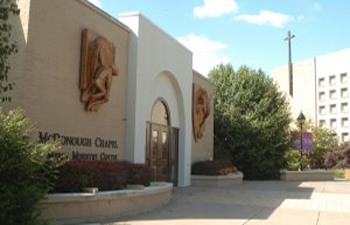 The Saint Xavier University (SXU) community will celebrate Mission Day today, Wednesday, March 21. Come to deepen your personal commitment to the University's educational mission of helping students "to search for truth, to think critically, to communicate effectively, and to serve wisely and compassionately in support of human dignity and the common good." It's this mission, lived by faculty and staff in each class and meeting, which keeps Saint Xavier a student-focused and service-oriented institution.
The day's celebration will begin with a breakfast at 9:30 a.m. in Warde Academic Center's Butler Reception Room. There will be a morning reflection on the "Vision and Educational Vistas of Frances Xavier Warde, R.S.M." with Visiting Scholar-in-Residence Sister Sheila Carney, R.S.M., special assistant to the president of Mercy Heritage and Service at Carlow University (Pittsburgh, Penn.).
Breakfast will be followed by Mass at noon in McDonough Chapel of the Mother Mercy, where Sister Carney will offer a scriptural reflection. The University community will witness the unveiling and blessing of the Frances Xavier Warde sculpture at 2:30 p.m. outside of the Office of Admissions.
SXU's Mission Day celebration will conclude with the Awards Ceremony at 3:30 p.m. in Warde Academic Center's Butler Reception Room. At the ceremony, the SXU community will honor a student, a faculty member and one staff person with the University's three prestigious service awards.
For more information, contact the Office of Mission and Heritage at 773-298-3900.
---