Saint Xavier men walk a mile to bring awareness to sexual assault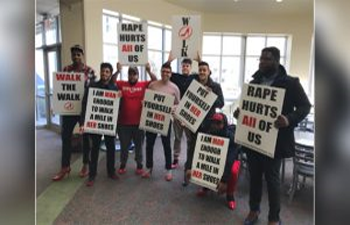 Did you know that every 98 seconds someone in the U.S. is sexually assaulted? That said, on Thursday, March 22, a group of Saint Xavier University (SXU) students walked alongside SXU's Chicago campus, 3700 West 103rd Street for the Fourth Annual Walk a Mile in Her Shoes® event. The group walked one mile of their campus from 11 a.m. to 12 p.m. to get the community talking about topics including gender relations and sexual assault.
April is Sexual Assault Awareness Month across the country. Men at SXU are showing their support by slipping into some high-heeled shoes and completing a one mile walk that will bring light to an often-underrepresented issue that is especially prevalent on college campuses.
"It's a neat way to experience what women experience on campus," said Alexa Zaharris, associate director for Student Activities. "The community seems to enjoy the event, and it shows men's commitment to being allies to the women on campus."
Saint Xavier Council (SXC) President Logan Copeland is confident that the walk will inspire all men on campus to spend more time considering the impact of sexual assault on women.
"Having men walk a mile in women's shoes may help change the perspective," said Copeland.
With a Public Safety escort and signs of solidarity in-hand, participants travelled together throughout the Chicago campus. Everyone completed the mile-long loop and even garnered applause from spectators upon finishing their walk.
"I'm sweating!" said senior Mauricio Diaz when asked how he felt after removing his bright red heels.
When the walk was over, there was a sense of accomplishment and relief from those who participated. Participants recognized importance of educating their peers and community members on issues surrounding violence and sexual assault. Although this event is lighthearted when compared to the larger issue at hand, it proves that you can never fully understand another person's point of view until you have walked a mile in their shoes.
"I think it is a good way to build awareness," said Tori Wilson, spectator and volunteer. "This is a little thing that we can do, but obviously bigger changes need to be made on a larger scale."
About Walk a Mile in Her Shoes®
The mission of Walk a Mile in Her Shoes® is to create a unique and powerful public experience that educates individuals and communities about the causes of men's sexualized violence against women, and provides them with prevention and remediation strategies. The march empowers men, and all participants, to further develop and implement these strategies both interpersonally and politically.
---