Graham Peck: Author, Filmmaker, Podcaster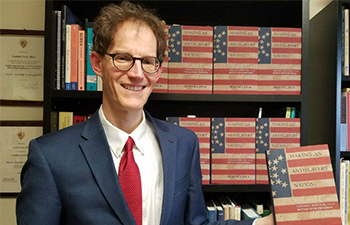 History is the lens through which society sees the world. An understanding of the past is what leads to a more enlightened future. For historians like Graham Peck, their enthusiastic joy is to find new and creative ways to share that past with others.
Over the years, Peck has stacked a creative resume. He is an award-winning author, a historical documentary filmmaker, and a podcaster. A native of Oakland, California, he graduated from California State University, Hayward in 1991 with a B.A. in History. He then relocated to Evanston, Illinois to earn a Ph.D. in American History from Northwestern University. After serving a year as a visiting professor of history at Rhodes College in Memphis, he debuted at Saint Xavier University (SXU) in 2002. His wide range of history courses at SXU includes an innovative documentary filmmaking course co-taught with Nathan Peck, SXU Art and Design Department chair.
"It was a massive year-long process," said Peck as he praised the hard work his students performed the first time he taught historical documentary filmmaking. "It was the most intense year of my life, incredibly engaging for myself and the students. By the end of the academic year, we had something really special that ultimately evolved into the film that went on to become an exhibit at the Douglas Tomb. And another special thing that emerged from the film was my collaboration with Nathan, who helped me finish it. Our friendship and work together grew out of that film and has continued to this day."
This project was a feature-length film titled "Stephen A. Douglas and the Fate of American Democracy." Brought to life through the ongoing dedication of Peck and his students, along with the artistic input of Nathan Peck, the film debuted at the Stephen A. Douglas Symposium hosted by SXU in 2014. The film was broadcast on WTTW, Chicago's premier PBS station, in 2016 and is now installed as a permanent exhibit at the Douglas Tomb State History Site in Chicago.
Peck's ongoing scholarly and creative works have focused on antebellum Illinois. He has published three articles on Abraham Lincoln and Stephen A. Douglas in the Journal of the Abraham Lincoln Association, an article on the early Illinois Republican Party in the Journal of Illinois History and a chapter on the antebellum party system in Practicing Democracy (2015). His 2017 book, "Making an Antislavery Nation: Lincoln, Douglas and the Battle Over Freedom", uses the history of Illinois and the influential national roles played by Lincoln and Douglas to reinterpret the rise of antislavery politics before the American Civil War. "Making an Antislavery Nation" won the Russell P. Strange Memorial Book Award from the Illinois State Historical Society and was selected as a finalist for the 2018 Gilder Lehrman Lincoln Prize.
"Most fields of academia are article-driven," explained Peck. "While historians do publish articles, our field is mostly book-driven. So I am glad my book is out."
But Peck also likes to reach out to the broader public, as he did in his film. Last spring, he worked with Peter Kreten, general manager of the SXU radio station, to develop A Great Woman and Her Time, an eight-part podcast series. Within each fifteen minute episode, Peck explores the life of Mother Catherine McAuley, the founder of the Sisters of Mercy, who established Saint Francis Xavier Academy for Females in 1846, soon after they arrived in Chicago.
"It is great that the podcast has been hosted by the WXAV 88.3," said Peck, "because it will enable it to be heard by anyone in the world with an Internet connection in addition to students and other members of the University here in Chicago. I was interested in podcasting because two rock musicians that I met on a flight told me that they had a favorite podcast -- "Hardcore History" -- by a guy named Dan Carlin. When I listened to it, I was amazed; it was incredible. I was captivated partly because he was such a great storyteller and partly because I wanted to reach out to the broader public myself. So I was excited when I found a way of reaching the public that wasn't a massive, technologically complicated effort. Unlike a film, you can do a podcast by yourself."
With eyes on the horizon, he is already mapping out plans for his next podcast and possibly even teaming up with Nathan Peck for another filmmaking adventure. But he also encourages others to pursue their dreams of sharing history.
"This is the amazing thing about technology," said Peck. "Anyone now can go online and read documents from the Library of Congress and other archives and know more about those subjects than most historians. You might not be a professionally trained historian, but that's what is great about history. It's for everyone."
---