SXU Students Awarded HRSA Nurse Corps Scholarship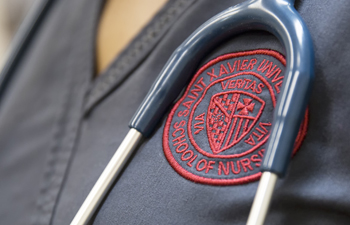 Saint Xavier University's (SXU) School of Nursing and Health Sciences is delighted to announce the HRSA Nurse Corps Scholarship Program has awarded full scholarships to three deserving young women. This annual program awards a full scholarship and a monthly stipend to those dedicated not only in the classroom but also to communities desperately in need of professional care. These three recipients fully embody the mission and philosophy of SXU, which is to educate students "to search for truth, to think critically, to communicate effectively and to serve wisely and compassionately in support of human dignity and the common good."
The first recipient, Meghan Murphy, has already excelled as a leader. After completing her undergraduate degree in sociology from the University of Illinois Urbana-Champaign (UIUC), she volunteered with the Jesuit Volunteer Corps in Chuuk, Micronesia, where she taught biology, physics, Spanish and community development at Xavier High School. While there, she saw firsthand what it means for a community to lack the proper recourses for good health practices, leading to her current ambitions to become a registered nurse. Her plans are to continue working with underserved, diverse populations.
"I want to work with the underserved so that I can continue learning new skills, news ways of thinking and maintaining an open-minded attitude, as well as being a resource for those who need me most," said Murphy.
The second recipient, Marissa Martin'ez, is a first-generation student who had the opportunity to work with the Romero Immersion Programs. This was an experience that challenged her to develop a deeper sense of social justice and commitment. She traveled across East Los Angeles, Mexico and El Salvador before uncovering her desire to work as a nurse with socially disadvantaged children and their families. Traveling from California with her husband, she found the nursing program at SXU perfectly matched to further advance her skills and prepare her to serve underserved communities.
The third and final recipient, Caitlin Mrumlinski, graduated from UIUC with a degree in community health and a minor in Spanish. While attending UIUC, she served as president of the Alpha Gamma Delta Sorority, responsible for the wellbeing of 200 young women and their constant dedication to philanthropy. She later went on to work for Homer Glen's Dialysis Care Center where she designed a program to provide patients with supplies to make their treatments more conformable and to encourage them to comply with treatment -- a program that is still in place today.
"Meghan, Marissa and Caitlin are three remarkable women who have demonstrated their commitment to serving diverse communities in the past," said Teresa Miller, MSN, PCNS-BC, RN, associate nursing professor. "Receiving the HRSA Nurse Corps Scholarship will allow them to concentrate on their studies without financial burden. After graduation, they will be able to continue to serve underserved, diverse communities."
Ranked fourth in Illinois, Saint Xavier University is dedicated to providing underserved communities with proper resources and passionate, capable individuals who provide exceptional support. Learn more about the School of Nursing and Health Sciences' top-ranked graduate programs and the opportunities it provides as a Center of Excellence.
---