SXU students volunteer to feed the hungry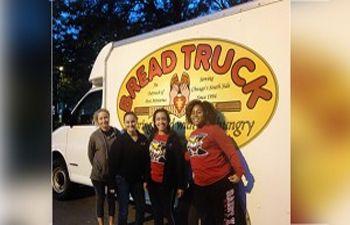 Each semester, students have the opportunity to travel to impoverished neighborhoods in order to serve food to those who need it with the Port Ministries' Bread Truck. Upon meeting in the front of the Chapel, students head into the city for their service work.
A typical night of volunteering involves packing the Bread Truck with sandwiches, food bags and hot chocolate. Then, the group of volunteers drive around the Back of the Yards neighborhood and makes four to five stops at different intersections to hand out food. Volunteers hand out food and drinks to people and engage in small talk conversation with the people they serve.
For many students, this is a new experience. Not only are they helping those who are in need of a meal, but they are learning more and witnessing the poverty that resides so close to home.
If any student would like to volunteer next semester, please visit the Ministry Center to reserve a spot and sign up. The truck only take up to four people each visit so it is important to reserve a spot as early as possible.
---