2019 Graduate Ronald Guhl Returned To School To Set An Example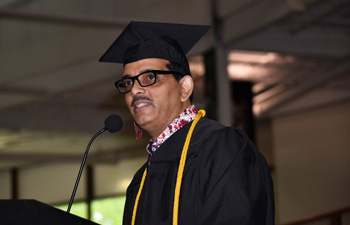 Saint Xavier University (SXU) 2019 graduate Ronald Guhl of Oak Lawn was featured in the Daily Southtown newspaper, sharing his heartfelt and captivating story of returning to college and setting an example for his kids. While he has always been open about his personal story of being both a foster kid and a foster parent, the 53-year-old graduate shared his experiences with his fellow graduates during the College of Arts and Sciences commencement ceremony in early May.
"My speech was about overcoming challenges and barriers," said Guhl. "It was about my personal journey and how I wanted to become a living demonstration for my boys. They had some challenges and I didn't want to just talk about working hard and persevering. I wanted to show them."
A child of the 1960s, Guhl was taken in by Catholic Charities at birth from Cook County Hospital. At the age of 2, he was placed along three other boys with a caring foster family on the South Side of Chicago. Growing up in a loving home with a mixture of birth and foster children, Guhl made lasting familial relationships that still last to this day.
"I do keep in touch with my foster siblings," said Guhl. "They came to the graduation."
His experience in the foster care system left a lasting impression on Guhl that gave him a desire to give back, which led to him becoming a single foster parents to three brothers in 2010. One year later, he was named by the Lutheran Social Services of Illinois as Foster Parent of the Year. Those three brothers have since grown up and Guhl has taken in three more children.
In 2012, he enrolled part-time at Moraine Valley Community College to set an example for his foster boys where he saw an opportunity to not only tell his boys to work hard but show them how to do so. He graduated in 2016 with honors and saw his example inspire his boys, whose grade improved. He then enrolled at SXU and worked toward a degree in communication.
"Ron's generosity was a joy to witness," said Brad Mello, associate professor at SXU. "As a non-traditional student, he served as a mentor to many younger traditional students. He gave of his time and demonstrated such kindness to his peers."
Guhl now plans to pursue a graduate degree and hopes to one day become a college professor of communication and public speaking.
---