New Year Resolutions from Saint Xavier University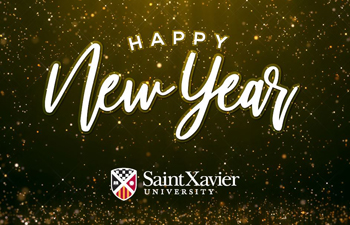 A new year means New Year's resolutions and, for many Americans, that involves a running list of ambitious goals. Wondering how you can make your resolutions a reality? The answer lies tucked away on the South Side of Chicago at Saint Xavier University (SXU).
This year, SXU would like to help you keep those well-intentioned plans with four easy and very obtainable resolutions:
Take on a Healthier Lifestyle
For many people, the desire for six-pack abs may lead to jumping the gun, resulting in an unsustainable and sometimes dangerous routine. Instead of looking for a quick fix, start slowly with health and lifestyle fitness as the primary objective. In addition to exercising, many people look to change their diets in the new year but often fall short of accomplishing their goals because they do not follow through on devoting time to a healthy lifestyle.
At SXU's Shannon Center, reaching your health and fitness goals for 2019 can be made possible. Finding a routine that works for you is really quite simple when checking out the workout room, indoor track or fitness classes.
If you are completely lost on where to start on your road to a healthy lifestyle, try enrolling in the Shannon Center's nutrition class led by Kelly Devine Rickert. This program has eight class sessions where each participant will have access to meal plans, PowerPoint presentations and handouts. This class also includes a cooking demo. This program has been very successful with an average weight loss of 8 to 15 pounds per person. The cost to join is $40 for SXU students; $75 for SXU faculty, staff, alumni and Shannon Center members; and $95 for the public community.
Challenge Yourself
Whether you are a senior in high school, wanting a master's degree or interested in an online course that fits your schedule, the beginning of a new calendar year is an excellent opportunity to think about what you would like to do differently and to challenge yourself.
SXU offers a variety of high-quality academic programs to a diverse and talented student body. Students -- young or old, near or far -- can enjoy a wide selection of undergraduate and graduate programs offered through the College of Arts and Sciences, School of Nursing and Health Sciences and the Graham School of Management. Additionally, SXU's Continuing and Adult Education features programs and services tailored to the unique needs and experiences of adult learners.
SXU's online graduate degree programs help students develop the necessary tools to advance in their careers. Best of all, the convenient online format offers students the flexibility to earn a degree while continuing to work within their fields.
Spend Less
A new year is probably the time when you take a look at your bank account and experience a bit of a shock. Many Americans hope to spend less in the coming year but often fall short of this conscious effort by slipping into old habits. The trick to success is to identify a few small, inexpensive events and SXU offers many great activities for all to enjoy. Kick off this resolution by trying to attend an SXU concert (average cost $6), watch a sporting event (average cost $5) or get some culture with a free visit to an art gallery exhibit.
Life on SXU's campus is full of entertaining and diversifying possibilities, so save some money and come out to enjoy the fun.
Give Back
If you are looking for an opportunity to give back to the community, give the gift of paying-it-forward and considered helping a student. Big or small, it all means the same. Consider donating a dollar for every year you have been out of school or make SXU a part of your estate planning. See how you can give your time and network with fellow neighbors, friends and members of the SXU community.
The University is deeply committed to ensuring that its students are fully equipped to meet the challenges of this new millennium and would greatly appreciate you joining to fulfill that commitment.
---