SXU Invites High Schoolers to 2019 Student Media Summer Camp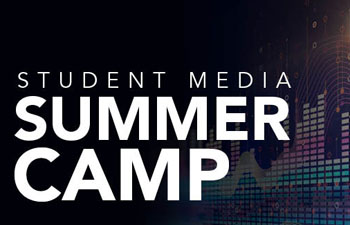 Saint Xavier University (SXU) is proud to offer a range of summer camp and course experiences to youth in the community that incorporate practical lessons with hands-on learning led by SXU professors and staff. Each camp is held on the University's beautiful campus on the South Side of Chicago, exposing attendees to the college environment and preparing them for the future.
Among the camps and courses offered in 2019 will be the Saint Xavier University Student Media Summer Camp that will run June 24 through 28 from 10 a.m. to 3 p.m. each day. The camp is open to all high school students who will have the opportunity to program their own radio broadcasts.
Students will have full access to SXU's WXAV 88.3FM offices and equipment and will participate in sessions with media industry professionals, along with SXU communication professors, staff and students. Since 2003, WXAV 88.3FM has won more than two dozen Illinois Broadcasting Association Student Silverdome Awards, including 1st Place in Best Radio Live Game Sports Broadcast in 2012 and 2nd Place for Best Radio Series or Documentary for an episode of "Veteran Matters". Attendees will complete the camp with the abilities to describe and identify broadcasting terminology, develop enriched broadcasting skills, identify ethical concerns in broadcasting and produce original works.
The cost of attending the camp is $150 per student. To register or learn more about the SXU Student Media Camp, visit the summer camps and courses website.
SXU is excited to host so many fine young men and women this summer and invites all to visit the SXU website to explore all available summer camps and courses!
---