SXU Basketball Teams Host 'Hoops for Hope' for Alumna Fighting Cancer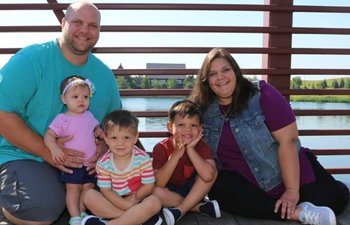 On Saturday, January 19 during the women's and men's basketball games against Olivet Nazarene University, Saint Xavier University (SXU) will host the third annual Hoops for Hope event. This yearly fundraiser is held to honor and benefit an SXU family in need. Last year's funds supported Lincoln-Way East High School senior Sam Coverick and his battle against Hodgkin's Lymphoma. The 2019 Hoops for Hope event will go to support SXU alumna Mary Scudella and her family.
The Scudella family formed at Saint Xavier University. Before their careers and family and the diagnosis of cancer, they were just Mary and John. Mary was an education major and John was a criminal justice major and player for the SXU football team. They started dating in 2006 and were married in November of 2012. Soon after, they added their son Jack to the family, with their second son Henry and their daughter Nora to follow.
"Our kids are our world," said Mary. "We created a wonderful life together and spending time as a family is one of the things we do often but sometimes took for granted."
In July of 2018, Mary was diagnosed with stage 3 breast cancer at the age of 33.
"My world started spinning with doctor appointment after doctor appointment," said Mary. "My summer off with my kids quickly turned from days swimming to us sending them to daycare so that I could go get another test. I had to take the school year off from work in order to receive all the necessary surgeries and treatments."
Mary underwent a double mastectomy in August, began chemo in September and still has a very long road of treatments, radiation and surgeries ahead of her.
"Explaining to my children that mommy has cancer is something I never thought I would have to do," said Mary. "I am very lucky and thankful to have my friends and family to support me through this. I look forward to the day when I can say 'I am a survivor'. But until that day, I will continue to fight for the life we had before my diagnosis."
Everyone is invited to come out to the games on January 19 and show your support for the SXU Cougars and the Scudella family. The women's game tips off at 1 p.m. with the men's game to follow at 3 p.m. Proceeds raised from this event will go directly to the Scudella family. Join the community in helping this embattled family by participating in raffles, half-time contests, a "miracle minute," split the pot and great basketball competitions. With your help, the SXU community hopes to make a positive impact on Mary and her family!
---