/
/
/
ACI Praises Saint Xavier University as a Midwest Leader in Catholic Higher Education
ACI Praises Saint Xavier University as a Midwest Leader in Catholic Higher Education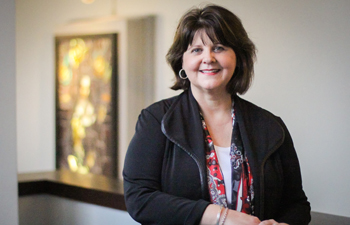 Saint Xavier University (SXU) is honored to be a dedicated member of the Associated Colleges of Illinois (ACI) as one of 27 fellow institutions from across the state. The ACI is a highly reputable organization dedicated to supporting its member colleges and universities by advancing independent liberal arts and sciences education and helping underserved students succeed in college, in their career and in life.
SXU President Laurie M. Joyner was interviewed for the ACI's featured story, diving into the institution's background as a Midwest leader in Catholic higher education, SXU's history of providing a wide range of curricular and co-curricular programs, the University's dedication to serving the local communities and the Chicago area and its ongoing mission to offering transformative and affordable education experiences.
SXU is proud of its ongoing work to help shape students' educational growth and thankful to the work of its fellow institutions part of the ACI, whose featured story on SXU titled "Serving the Underserved: Saint Xavier University a Midwest Leader in Catholic Higher Education" can be read below:
When you speak to Dr. Laurie Joyner, president of Saint Xavier University, one thing is obvious: she loves her work. In particular, she is passionate about the university she leads, the Sisters of Mercy, founders and sponsors of Saint Xavier University and hundreds of other educational and service ministries worldwide, and Joyner is passionate about Catholic higher education.
"Saint Xavier is an extraordinary place," she says. "We have amazing and talented faculty and staff, and incredibly hard-working students. I think we're blessed to do this work. I can't imagine doing anything else. This is my calling."
Now in her third year as Saint Xavier president, Joyner previously served in vice presidential and decanal positions at Rollins College, Winter Park, Florida, and as president of Wittenberg University, Springfield, Ohio, a university affiliated with the Evangelical Lutheran Church in America. At Wittenberg, Joyner says she learned a lot, but in her heart, she wanted to serve again at a Catholic institution. A first-generation college student, Joyner earned a bachelor's degree in sociology at Loyola University New Orleans, where she later held faculty and administrative positions, and earned a master's degree and doctorate, both in sociology, at Tulane University, New Orleans.
University's history and tradition part of the student experience
Joyner is well aware that many small colleges, including Catholic-affiliated colleges, are vulnerable for a variety of reasons and wants to do her part to sustain them. "I am going to do everything in my power to make sure we offer this kind of experience to as many students as we can. I think Catholic higher education is completely transformative," she says. "Our educational mission helps students discover who they are, what they value and their responsibilities to the world."
Students learn through classroom and community experiences. For example, students and faculty regularly visited a nearby federal detention center to pray with members of the Sisters of Mercy for those affected by a broken immigration system, or students using the power of art to draw attention to the university's mission and core values of diversity and inclusion. Or, Catholic symbols located throughout the campus serve as a "reminder of the centrality of our religious heritage and commitment to social justice," Joyner says. It is notable that the Office of the President, the director of mission and heritage, and the director of campus ministry, are united in the Mercy Ministry Center, highlighting the president's symbolic role "as the chief mission officer" of Saint Xavier University, she says.
Founded in 1846 by the Sisters of Mercy, Saint Xavier University is the oldest Catholic university in Chicago, serving 3,700 undergraduate and graduate students. Designated as a Hispanic-serving institution, its original purpose was to educate Irish immigrants. Today, it continues to serve a significant first-generation student population. Nearly two-thirds of the university's students are first-generation and more than half are Pell Grant-eligible students, Joyner says. Curricular and co-curricular university programs reflect the critical concerns of the Sisters of Mercy: immigration, racism, women and children, nonviolence and care for the earth. "It's important that we create compassionate human beings who recognize their Mercy education as not something just for private benefit, but also something that should contribute to the common good," Joyner adds.
Saint Xavier, which will celebrate its 175th anniversary in 2021, has earned positive public recognition from several organizations. For example, it is the most affordable Catholic university in Illinois, according to information compiled by the federal government on CollegeNavigator.com. It was ranked fourth in Illinois for helping underserved students by the Illinois Education Research Council. U.S. News and World Report named it a "Best Value" among regional Midwest universities and a "top 10" institution for diversity among regional universities in the Midwest. At the beginning of this academic year, Saint Xavier welcomed more than 700 new students, its largest freshman class ever, the result of strategic recruiting efforts, Joyner says.
Saint Xavier known for multiple curricular and co-curricular programs
Students enroll at Saint University to study in its nursing program, designated a Center for Excellence in Nursing Education by the National League for Nursing, as well as a top program for graduate online education. They university's Graham School of Management, specializing in business and accounting education, is accredited by the Association to Advance Collegiate Schools of Business International (AACSB), one of the highest standards for business schools worldwide.
In addition, Joyner says other popular programs at Saint Xavier include curricula in the physical sciences, and programs such as criminal justice and psychology.
Co-curricular programs focus on active, engaged learning, leadership development and service. For example, this spring the university held its 2019 Research Expo, which featured 83 projects of student-faculty collaborative research, some of which resulted in presentations and published work. Faculty members took a dozen honors students to a learning experience at Yellowstone National Park, thanks to a $1.5 million National Science Foundation grant to help underserved students with possible careers in science, technology, engineering and mathematics. Plus, Joyner says intercollegiate athletics is strong at the university, with student-athletes in many sports competing regularly for conference championships and performing well in their academic studies.
What works for Saint Xavier is putting the university's mission and the students first, the president says. "I believe that every single decision that we make, no matter how difficult, should always be done through the prism of our mission and making sure that our students are at the center." Further, it's "a moral imperative" that if students are admitted to the university, its faculty and staff must help students graduate in a reasonable time frame, Joyner says.
Chicago location important to Saint Xavier community
The university's location is important in recruiting, Joyner says. Saint Xavier is part of a tight-knit residential community on Chicago's south side, near suburbs such as Oak Lawn and Chicago Ridge. It is also near Chicago's downtown business district, where students can apply what they learn in the classroom. Saint Xavier's location is one of the things that attracted Joyner to the university, she says. The university also maintains a partnership with the Chicago White Sox, a south side favorite, which has helped the university's public visibility and provided opportunities for students to learn and make professional connections.
For the future, Joyner says Saint Xavier's vision is to "become the affordable Catholic Mercy institution known for the strength and relevance of its curricular and co-curricular offerings, the accomplishments of its faculty, staff and students, its robust community engagement and the success of our graduates."
"We're going to run a great university that offers a high-quality educational experience both inside and outside the classroom, taking advantage of our incredible location and community, really celebrating the accomplishments of our faculty staff and students," the president says. "We don't want to be just in this community, we want to be of this community."
What an observer won't see at Saint Xavier is a lot of construction projects. "I don't think that's what my institution needs at all right now," Joyner says, pointing to demographic trends that show fewer students entering college in the near future. But, Joyner says the university is investing more than $2 million per year in upgrading classrooms and academic buildings, enhancing residential spaces, and creating attractive outdoor green spaces. Financially, the university has made "tough decisions" to pay off almost $10 million in debt in the past two years, and Joyner says the university's needs to grow its nearly $14 million endowment.
University a strong ACI supporter
One year ago, Saint Xavier joined the Associated Colleges of Illinois (ACI), and today is one of 27 member colleges and universities.
"I think it's organizations like ACI that really help amplify the voice of independent education," says Joyner. "We are stronger together than apart. We need many more collaborative connections, and I think a group like ACI can help to facilitate that." She cites ACI's work to make independent higher education affordable through scholarships and internships, and its work to provide professional development opportunities for staff.
Highlighting the value of independent, private higher education is important for Joyner. She points out that net cost of attendance at private schools is often competitive with public institutions, thanks to scholarships and other financial aid available to students. "It gets better. Saint Xavier University outperforms two-thirds of our public counterparts in Illinois in terms of six-year graduation rates," Joyner adds.
Click here to visit the ACI website and see SXU's story featured story!
---