Allison Kern named SXU Director of Athletics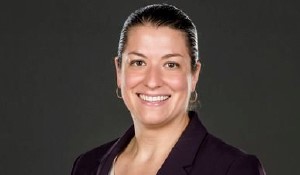 Saint Xavier University president, Dr. Laurie M. Joyner, enthusiastically announced that Allison Kern will lead Saint Xavier as the new Director of Athletics.
Kern comes to SXU after serving as the Director of Athletics at Agnes Scott College (ASC), an NCAA Division III program in Decatur, Georgia. Kern was responsible for the development of the overall strategic vision for the Agnes Scott athletic department, and in 2018-19, saw four of ASC's athletic programs qualify for post-season play. The Scotties maintained a department-wide GPA of 3.29 during the past academic year, as a record 14 student-athletes earned Academic All-Conference honors.
"Based on her passion for the mission of Saint Xavier University, her belief in the transformative power of an integrated academic and athletic experience, and her dynamic presence, Allison rose to the top of the candidate pool," said Dr. Joyner on Kern's addition, facilitated through a national search conducted by Athletics Staffing & Consultants. "She is a strategic thinker, committed to enhancing partnerships across campus and strengthening relationships between the University and the external community."
"I want to thank Dr. Joyner and the hiring committee for this opportunity," added Kern. "I am excited about the vision for Saint Xavier University and the role athletics can play in the growth of the institution. I look forward to working with coaches, faculty, staff and student-athletes."
While at Agnes Scott, Kern spent one year as the assistant director of athletics for external relations, where she oversaw an annual giving program for the athletic department, and coordinated alumni- and donor-related events. Kern also served as the head women's basketball coach at ASC, and was the head coach at Misericordia University in Dallas, Pennsylvania for four seasons from 2012-16.
Kern graduated with a bachelor's degree in Political Science from John Carroll University (Ohio), and is a member of the National Association of Collegiate Directors of Athletics (NACDA), National Association of Athletic Development Directors (NAADD) and the National Association of Collegiate Marketing Administrators (NACMA).
---