Cardinal Blase J. Cupich Celebrates Ash Wednesday Mass at SXU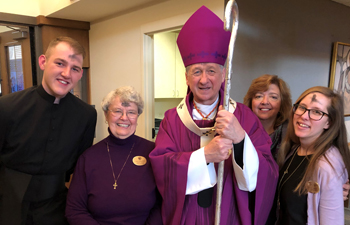 Saint Xavier University (SXU) was honored to celebrate the start of the 2019 Lenten season with Cardinal Blase J. Cupich celebrating Ash Wednesday Mass in the McDonough Chapel. Ash Wednesday opens Lent and is famously observed through the practice of wearing ashes on the head. The ashes are meant to symbolize the dust from which God created humanity, applied as a visual symbol of penance as practitioners entered a season of prayer, fasting and almsgiving leading up to Easter Sunday.
Over the years, SXU has been delighted to have such prominent religious leaders as Cardinal Cupich celebrate various occasions in McDonough Chapel with the SXU community. Cupich was installed as the Archbishop of Chicago in late 2014 and, in 2016, Pope Francis announced Cupich's elevation to the College of Cardinals.
"I am thankful to SXU for the invitation to celebrate with you all today," said Cupich to a packed McDonough Chapel before going on to speak of the significance of Lent and how it is not just a season of fasting but also a time to give to one another. "The ashes on our forehead remind us that are lives can be spent so that others can be nourished. It's an expression on our part that our lives should not just be about feeding ourselves but giving alms to others. It is the ashes on our foreheads that prompts us to consider what our prayer is about, because it is our prayer that connects us to others."
After his homily that earned a numbers of laughs and offered a fair share of wisdom for the coming season, Cupich invited everyone to come forward to receive their ashes and to celebrate the Mass. As the final blessings were shared, he personally met everyone at the door as they went out into the world, shaking hands and taking a number of pictures.
SXU is grateful to have hosted Cardinal Cupich and wishes him and all of its community a neighbors a very blessed Lenten season as we honor the University's Mercy heritage and mission and prepare as a community for the coming of Easter.
---