SXU Awards Champ's Service Excellence Department of Year Award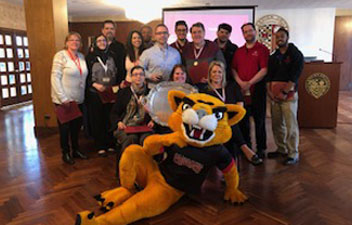 The Saint Xavier University (SXU) Department of Information Technology (IT) has been awarded the institution's Champ's Service Excellence Department of the Year Award. This recognition distinguishes University departments or teams that consistently demonstrate a high degree of excellence in teamwork and collaboration with others.
Information Technology staff has been instrumental in the development of SXU's Service Excellence standards as well as the creation of the Paws for Applause Wall, which recognizes individuals who go above and beyond while performing their jobs.
"I'm thrilled the entire team was recognized in this fashion by the SXU community," said Molly Maley-Gaik, chief information officer. "Often we are the people behind the curtain, but this award not only showcased our wonderful team on the front lines but those behind the scenes. I know getting this award gives us all a sense of pride, but it doesn't change our strong sense of mission to provide an effective and efficient technology environment for our students, faculty and staff."
SXU's Service Excellence initiative is oriented toward developing and maintaining a standard of meaningful, personalized service in a spirit of excellence. Faculty and staff receive training on how to provide service that is responsive, collaborative, effective and respectful.
"There are so many departments that consistently demonstrate excellence in teamwork and collaboration," continued Maley-Gaik. "The work they do for our students is exemplary. The work these folks do across the University is contagious and keeps us going in IT to support them. They all inspire success by working together to provide personalized, meaningful service in a spirit of excellence."
---