/
/
/
Coach Hallberg's SXU Career Honored by Congressional Record Proclamation
Coach Hallberg's SXU Career Honored by Congressional Record Proclamation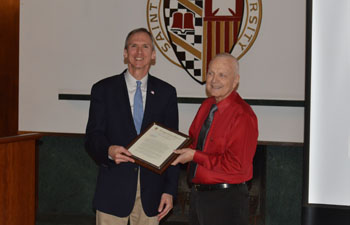 Saint Xavier University's (SXU) women's basketball coach Bob Hallberg has commanded a very successful and lengthy 49-year career, including 19 years serving as SXU's athletic director and numerous inductions into several Halls of Fame. That awe-inspiring career saw one more milestone before his upcoming retirement in a packed Butler Reception Room when U.S. Congressman Dan Lipinski flew in to personally hand Hallberg a Congressional Record proclamation, forever immortalizing his stunning career in the Congressional Record.
"I am honored to be here with you today and celebrate your incredible career," said Lipinski while presenting the proclamation. "SXU is a special place and you've made such an incredible difference to so many student-athletes."
Many speakers stood before the crowded room and gave heartfelt speeches and goodbyes to Hallberg, including SXU President Laurie M. Joyner who, on behalf of State Representative Kelly Burke, read an additional proclamation made by the Illinois House of Representatives congratulating Hallberg on his illustrious career. Several Sisters of Mercy also gave their thanks to Hallberg for all he has given to the University over the years.
Coach Hallberg is a Hall of Fame member at SXU, Leo High School, University of Illinois-Chicago, Chicago Catholic League, Illinois Basketball Coaches Association (IBCA), Chicagoland Sports and Chicago State University. He has also received the Distinguished Alumni Award from Chicago State University and, in 2018, he was honored by IBCA as the fourth coach in Illinois basketball history to achieve more than 1,000 overall career coaching victories.
"It has been a great run," said Hallberg. "I have been very fortunate to coach great student-athletes, work with outstanding coaches and be supported by a great administration."
Hallberg became the first head coach of the SXU women's basketball program in 1999 and has led the program to over 500 wins in its 20 years of existence. In the last two decades, the Cougars have claimed 13 CCAC regular season championships, 10 CCAC Tournament titles and a back-to-back NAIA Fab Four appearance, reaching the national championship game in 2017.
Saint Xavier University could not be more proud to have had Coach Hallberg make history in its Athletics Department and the entire SXU community and beyond wishes him nothing but the very best. Congratulations Coach on such an amazing career!
---