Congressman Dan Lipinski Visits SXU STEM Studio and Students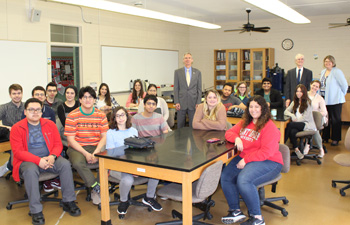 Saint Xavier University (SXU) was delighted to host Congressman Dan Lipinski Monday morning when he visited students enrolled in STEM courses for the May term. Stepping into a classroom led by Chemistry Department Assistant Professor Julia Wiester, Ph.D., the congressman did not skip a beat in expressing his ongoing enthusiasm for SXU's commitment to the STEM fields and his deep admiration for the National Science Foundation (NSF) and its investment in student research.
"I am a strong believer that improving STEM education at all levels is among the most important steps we can take to ensure that America remains the most technologically innovative country in the world," said Lipinski, co-chair of the STEM Education Caucus. "I was glad to speak to students at Saint Xavier to discuss the growing need we have to increase diversity in all STEM fields, especially engineering. I always enjoy promoting a career in a STEM field to interested students and will continue to push legislation that improves access to higher education in STEM for all people."
The NSF awarded SXU last summer a $1.46 million grant (#1832511) -- the largest of its kind in SXU history -- to support underserved students pursing education or a career in the science, technology, engineering and mathematics (STEM) fields. SXU was one of 31 projects totaling approximately $45 million that received the first research awards as part of the NSF's Improving Undergraduate STEM Education: Hispanic-Serving Institutions Program (HSI Program). It was through this five-year grant that SXU developed the STEM Studio on the third floor of the Warde Academic Center. The ongoing opportunities afforded by this designated studio are designed to help broaden participation in STEM and connect all students who are planning to enter a STEM field or pursue an advanced degree.
This grant has also helped fund impactful experiences such as the annual Yellowstone Project. Every spring break, about a dozen selected students travel out to Yellowstone National Park where they engage in policy-oriented fieldwork under the direct supervision of naturalists, ecologists and environmentalists who live and work in the greater Yellowstone area. Several students in attendance for the congressman's visit shared their experiences from this trip and further showcased Lipinski's excitement for the many opportunities available to students in the modern era.
During the congressman's visit, he discussed the increasing need in STEM-related careers, the political processes involved in committee hearings and new legislation, his own educational background in engineering and how it continues to help guide his political agenda, and his ongoing praising for all students diligently working toward their dreams of making an impact.
"Careers in the STEM fields are at a high demand and continue to increase," said SXU's College of Arts and Sciences Dean Robin Rylaarsdam. "After having the privilege of listening to Congressman Lipinski, we appreciate his partnership in the important educational work that supports these students and offer them every opportunity available to contribute to the STEM employee pool and to become competitive prospects for gainful employment."
SXU is thankful for the many opportunities the NSF grant provides its students as well as for the ongoing partnership with Congressman Lipinski. The University is dedicated to constantly growing and expanding its opportunities and services offered to students.
---