SXU's Exercise Science program recognized by NSCA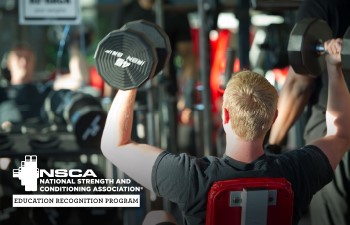 Saint Xavier University's (SXU) Exercise Science program was recently recognized by the National Strength and Conditioning Association's (NSCA) Education Recognition Program (ERP) for providing excellence in the classroom to prepare students for long-term professional success.
The ERP recognizes and distinguishes schools with strength and conditioning or personal training curricula that prepares students for NSCA certification exams.
"The NSCA has been considered the gold standard association for strength and conditioning, personal training and tactical certifications," said Brad Leshinske, coordinator of SXU's Exercise Science and Sports and Fitness Administration program, under the School of Nursing and Health Sciences. "To have our Exercise Science program meet the rigorous standards the NSCA has set forth with regard to curriculum ensures our students will not only possess the knowledge needed to have an impact in the workforce but more importantly provide the practical application to the science."
Leshinske, who has served as a certified strength and conditioning specialist with NSCA since 2005, is proof of the positive impact NSCA can have for a person's academic and professional career.
"I am humbled and proud of the recognition the NSCA has provided Saint Xavier, and I look forward to watching our students grow under the NSCA umbrella," he added.
In SXU's Exercise Science program, students receive a well-rounded education in exercise, nutrition and various health and wellness topics. The program prepares students for the theory and practice of physical activity in a range of specialty areas, including strength and conditioning, motor development and learning, rehabilitation, exercise physiology, biomechanics and exercise psychology.
To learn more about SXU's Exercise Science program, visit our Exercise Science web page. Visit NSCA's Education Recognition Program web page for more information about their program.
---