/
/
/
SXU's Graham School of Management partners with Catholic Charities for backpack drive
SXU's Graham School of Management partners with Catholic Charities for backpack drive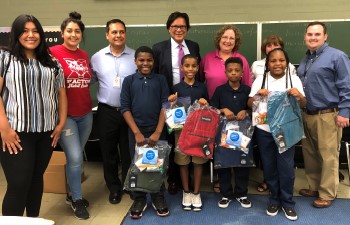 Saint Xavier University's (SXU) Graham School of Management (GSM) partnered with Catholic Charities on August 30 for a backpack drive at Lincoln Elementary School in Chicago Heights.
More than 100 new backpacks were purchased by Dr. Faisal M. Rahman, founding dean and professor of GSM, while Catholic Charities donated school supplies to give to elementary students at Lincoln, where the low-income family rate is above 90%.
"The Southwest Regional Office of Catholic Charities recognizes that collaboration and partnerships are critical to our success," said Carol L. Peterson, regional project manager for the Southwest Regional Office of Catholic Charities."We are thrilled to partner with the Graham School of Management at Saint Xavier University whose mission to 'serve wisely and compassionately in support of human dignity' complements Catholic Charities' core values: respect, compassion, competence and stewardship."
"Our partnership with Catholic Charities has led to so many great opportunities to give back to the community," Dr. Rahman said. "We as administrators need to set an example for our students on the importance of giving back to the community and always showing support."
Accompanied by SXU business-student leaders with guidance from Nick Mancari, director of undergraduate programs at SXU, the backpacks were distributed to students with the promise of further helping meet the needs of the students and staff of Lincoln Elementary School.
---