SXU's Graham School of Management Volunteers for April Food Day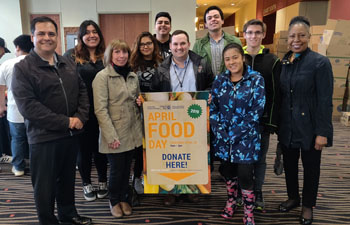 Saint Xavier University's (SXU) Graham School of Management (GSM) were delighted to take part in the 2019 April Food Day.
Local food pantries estimate the need for food and household goods has more than doubled in the past five years. The need is especially high in the spring and summer months as donations decrease and supplies diminish. SXU students, faculty and staff joined the fight this month to help support their neighbors in the South-Southwest region.
"The GSM has recently began a partnership with Catholic Charities, which has been great for both sides," said Undergraduate Programs Director Nick Mancari. "We are able to engage our students, faculty and staff in things like internships, service projects and donating to those in need. It ties heavily to our Mercy mission and heritage here at SXU."
Volunteers spent the day collecting, organizing and donating supplies for the local food pantries. Their efforts ultimately culminated in three cars packed with food and supplies.
"Participating in this event allowed me to develop a deeper connection with my peers and with the GSM," said business major Leslie Moreira, member of the Association of Latino Professionals for America. "Working collectively with everyone truly made a difference and I cannot wait to be a part of more events like this!"
SXU is proud of its many dedicated students, alumni, faculty and staff who continue to give their time and treasures to help improve their communities.
---