Client at Ludden Speech and Language Clinic Reads Heartfelt Thank You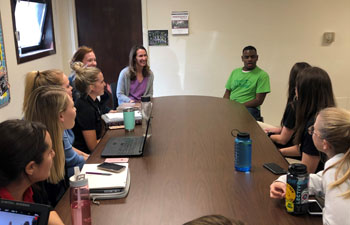 Davonte Prescott was delighted to stand in front of a room packed with Ludden Speech and Language Clinic student clinicians, cameras and excited therapists to read a letter of thanks to all those who have worked with him over the years.
"Thank you for helping me," Prescott read to a captivated audience. "Thank you for being my friend. Thank you for talking to me. Thank you for listening to me. Thank you for understanding me. Thank you for checking up on me. Thank you for waiting with me for the PACE bus. Thank you for being so nice to me. I am very humbled and blessed. I have had a great time meeting all of you the past few years of my life. God bless you and keep up the good work! Keep up your grades, I'm so proud of you. Thank you for everything!"
One of the highlights of the 21-year-old Midlothian resident's days has been his sessions at the Ludden Speech and Language Clinic. Working diligently with Saint Xavier University (SXU) graduate student clinicians under the direction of Patricia Mraz, M.S., CCC-SLP/L, Prescott has been developing ways to organize his thoughts and express them with others. As he gets closer and closer to his twenty-second birthday, he will no longer be eligible for special education services through the public school system. Davonte currently attends an 8 a.m. to 2 p.m. five-day-a-week program in his school district. In addition to the services he receives through the school, he also attends speech and language therapy sessions at SXU one day a week. Prescott has been role playing in sessions at the clinic to prepare himself for the next phase of life.
The Individuals with Disabilities Education Act (IDEA) is a federal law that makes available a free appropriate public education to eligible children with disabilities throughout the nation and ensures special education and related services up until their twenty-second birthday.
"IDEA is a great program that offers a lot to students with disabilities," said Mraz. "It helps give them a routine and helps develop their individual strengths and talents. I think it is important to consider new programs that might support adults with disabilities after their twenty-second birthday."
With sadness and frustration, Prescott expressed to Mraz that he has so many ideas that no one gets to hear, which is when she encouraged him to use his speech therapy session at the clinic as a way to organize his thoughts and figure out a way for him to express those ideas with others. This is where the idea for his letter to the student clinicians originated. As he started speaking, he kept expressing gratitude for the people at the Ludden Speech and Language Clinic and wanted to thank all of the student clinicians that worked with him, especially the graduate student who works with him currently, Natalie Watson. Watson earned her Bachelor of Science degree from Miami University of Ohio before attending SXU.
Prescott loves the opportunities to meet new people and start a conversation. After he read his heartfelt letter, he sat at a table with the clinicians and talked about everything from graduate classes to why they chose to attend SXU to his favorite WWE wrestlers.
Prescott is not alone in his progress. The Ludden Speech and Language Clinic is a source of progress, joy and hope for clients of all ages and disorders. Since its inception in 1959, hundreds of clients have benefited from services provided by the clinic and many graduate students have honed their skills before entering the workforce as speech-language pathologists.
The Ludden Speech and Language Clinic is incredibly proud of the amazing progress Prescott has made and by all the incredible work and dedication of all its clients.
---