School of Nursing and Health Sciences Host Second White Coat Ceremony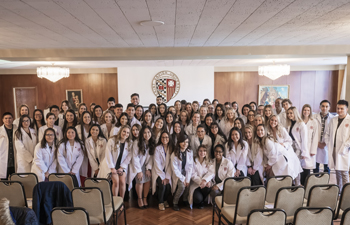 Saint Xavier University (SXU) hosted its second White Coat Ceremony for sophomore nursing students on March 4 in the Butler Reception Room. The honored students gathered together for the ceremony before eventually stepping forward to be "cloaked" in the iconic white coats by faculty members. This ceremony served of incredible importance to not only acknowledge these students for all the hard work they have put into their pre-nursing coursework but also to instill the importance of compassionate patient care as they transition into their clinical and lab work.
The White Coat Ceremony was first initiated by Dr. Arnold Gold at Columbia University Vagelos College of Physicians & Surgeons in 1993. Dr. Gold was a world-renowned pediatric neurologist and professor at Columbia University who believed that the oath to compassionate patient care taken by new physicians at the end of medical school came too late. In that spirit, he helped establish this new tradition of students taking the oath halfway through their education. Today, nearly every medical school in the United States, hundreds of nursing schools and many other health care schools participate in this tradition of humanistic care.
"To me, this ceremony symbolizes the beginning of your journey as a licensed professional nurse," said Peg Gallagher, Ed.D, CNE, RN, interim dean of the School of Nursing and Health Sciences (SONHS), as she addressed the sophomore nursing students. "Your role in health care is so important. One misplaced decimal on a medical dosage can cause incredible harm. So wear this lab coat with pride. You don't just represent nursing but Saint Xavier nursing."
Saint Xavier University was one of 50 nursing schools designated in 2018 to launch their first White Coat Ceremony. Funding for Saint Xavier University's ceremony was provided by the Gold Foundation through the generous support of its trustee and donor Elaine Adler. The Gold Foundation strongly encourages human connection in health care, which further shared by SXU when the now cloaked students stood together and recited the Oath to Compassionate Patient Care before officially taking up the next stage of their academic journeys. Saint Xavier University could not be prouder of its students and are eager to see where future takes them.
For more information about the White Coat Ceremony and the Gold Foundation, visit www.gold-foundation.org. Learn more about the School of Nursing and Health Sciencesand the opportunities it provides as a Center of Excellence.
---