2019 Graduate Izla Olson Works to Help Chicago's Homeless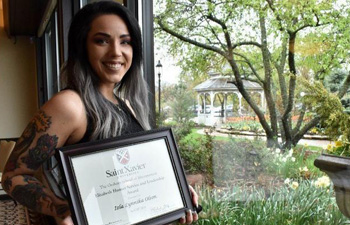 Saint Xavier University (SXU) 2019 graduate Izla Olson of Oak Lawn was featured in the Daily Southtown newspaper on May 13, praising her for using her marketing skills and education to help the homeless. Graduating from the Graham School of Management (GSM) with an undergraduate degree in business administration, Olson told the Daily Southtown that she believes her degree comes with a perception problem.
"Marketing gets sort of a bad rap as being manipulative," Olson said. "I'd like to be able to use it to improve society and the world."
True to her word, Olson has been working toward that goal with a project she founded in 2016 called BarberQue: Food, Love and Haircuts for Chicago's Homeless. The events is held annually in late summer and offers free haircuts and related services along with delicious servings of barbecued meat. It was in planning BarberQue that Olson tapped into her talents for marketing and put her skills to work, gathering volunteers and donors to help the homeless.
This impressive community feat and her astounding academic record led to SXU awarding Olson with the Elizabeth Hunter Service and Leadership Award. This award cited Olson's charitable accomplishments and her lofty academic achievements. She also served as the president of the Student Advisory Council for GSM.
"Saint Xavier is very dedicated to service, excellence and improving the community," Olson said.
Olson also received the J.K. Hwang Award for undergraduates who have shown academic excellence and the Marketing Outstanding Undergraduate Student Award during the University's Graham School of Management Awards Banquet. She was also inducted into Beta Gamma Sigma, an international honors society for business programs.
SXU is incredibly proud of Olson's many ongoing accomplishments and of all its students, alumni and community members dedicated to making a difference. The University is continuously honored by its Mercy mission and heritage, and it is deeply gratifying to see students take those teachings out of the classroom and into the world.
---