SXU Alumna Nevien Shaabneh Shares "Secrets Under the Olive Tree"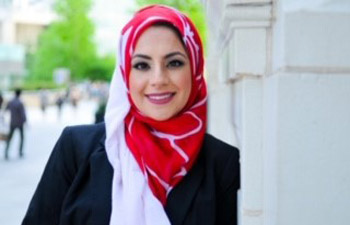 Nevien Shaabneh '10 has been inspired by the power of literature since kindergarten, filling her weekends with trips to the library where she would get her hands on anything she could read. Growing up, she discovered her love for realistic fiction and that passion evolved into a love for writing and a calling to become a teacher, leading her to pursue an undergraduate degree in English Education from the University of Illinois at Chicago and a Master of Arts degree from Saint Xavier University (SXU).
"She readily studied and applied the principles of effective design and instruction in her English classroom," said Maureen Spelman, Ed.D., professor in SXU's Education Department. "One thing that stands out about Nevien was her willingness to serve and give back to SXU after completing her program here. She served on the Curriculum and Instruction Advisory Board for a few years after graduation and gave so much of her time."
When Shaabneh completed her studies with SXU, she left leaving a sizeable impression with her professors as an excellent and conscientious student and developed a positive reputation of engaged leadership among her classmates.
"I chose to continue my education with Saint Xavier University because they are synonymous with education and have a great Education Department," said Shaabneh. "As an educator, I think it is my duty to continue learning, and I hope to even get my Ph.D. soon."
After years of teaching literature to her high school students, Shaabneh felt propelled to contribute to the Arab-American voice she saw missing from American literature. What originally started a short story and eventually grew into something much more, she wrote her novel "Secrets Under the Olive Tree". The novel follows the story of a young Palestinian woman born into a land plagued with war and an apartheid regime. After she moves to America, she is faced with the ghosts of her family's past and must discover the truth of her family's history.
"The characters are Arab-Americans but the themes and what they go through I think are very much universal," explains Shaabneh. "I have had people from all different backgrounds come up to me and tell me how they related to the story. I think that's the beautiful thing about reading. It shows us the diversity around us and how we are all connected to the same things."
To Shaabneh, writing is not just a hobby or something she does in her free time. Writing is a passion that she says must be undertaken in both the good times and the bad if telling a story is something you really want to do. This passion has driven her creative endeavors her whole life and is already pushing her to write her next novel.
"I think anyone can be a storyteller," said Shaabneh. "But you have to work at it. You have to write even when you don't want to. Even if you're busy, you need to find the time. I have had complete strangers come up to me and talk about my book. Sometimes, they've even broken down crying because they related to my characters. None of that would have been possible if I didn't dedicate myself to my writing."
In those rare moments when Shaabneh is not writing or helping to mold the young minds of her students, she is a public speaker on writing, sharing the importance of storytelling and amplifying the voices of minority women. As one of four daughters and a son, Shaabneh's parents instilled the belief that dreams are not bound by gender roles and Shaabneh continues to be an advocate for that message.
"I am a firm believer in the amazing power of reading," said Shaabneh. "I think stories are what help connect us."
SXU is proud of the amazing work Shaabneh continues to undertake and all the great accomplishments performed by all its many talented alumni.
---